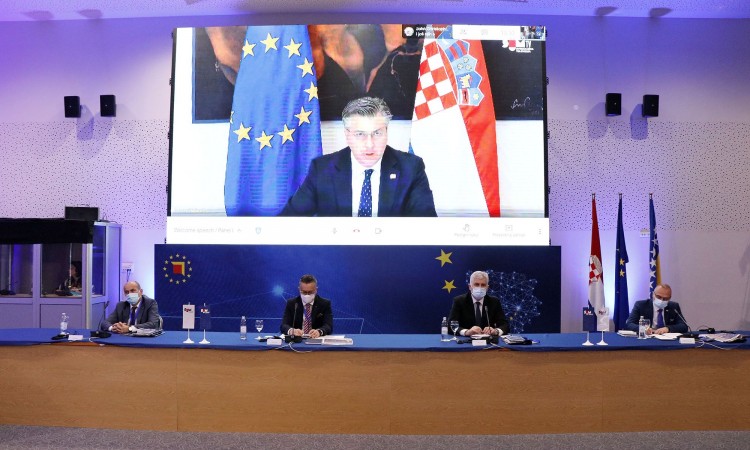 The conference "Transformation Potential of Euro-Atlantic Processes in Bosnia and Herzegovina" kicked off on Thursday in Neum, organized by the University of Mostar, the Croatian Academy of Sciences and Arts in BiH and the Rectors' Assembly of the Republic of Croatia.
This event represents the continuity of the conference cycle on the most pronounced social and political issues burdening Bosnia and Herzegovina, as determined by the Dayton Peace Agreement.
Croatian Prime Minister Andrej Plenković said in his address that Croatia would continue to support Bosnia and Herzegovina on its Euro-Atlantic journey hoping that the process will lead to lasting stability and relations, guaranteeing all parties equal rights.
In his virtual remarks, Plenković said BiH has been and will continue to be Croatia's friend and neighbour, adding that the ties between them were unbreakable.
Because of that and the fact that Croats in BiH constitute one of the constituent peoples, Croatia naturally has an interest in the situation and relations in BiH, but also in contributing as much as possible towards BiH's progress and stability, he said.
"BiH's European journey is the best way for transformation," he added.
Still, he said, all decisions that are essential for that should be made within BiH by agreement of the people who live there, a process in which Croats must be equally represented.
Croatia has already helped BiH in applying for EU membership candidate status in 2016, Croatian PM recalled, saying that Croatia planned to continue to extend such help while strongly encouraging EU enlargement to include all Western Balkan countries.
Plenković expressed hope that, with Croatia's support BiH would catch up with the other EU aspirants in the region who have achieved greater progress in EU integration.
The conference in Neum was organised by the University of Mostar with support from the Croatian Rectors' Conference.
Dragan Čović, president of the HDZ BiH party, said this was the fourth conference attempting to provide answers to BiH's many outstanding issues with the help of the academic community.
"In the case of BiH, there is no alternative to EU and NATO membership," he said, adding that those goals should be met by taking account of BiH's specificities. /ibna