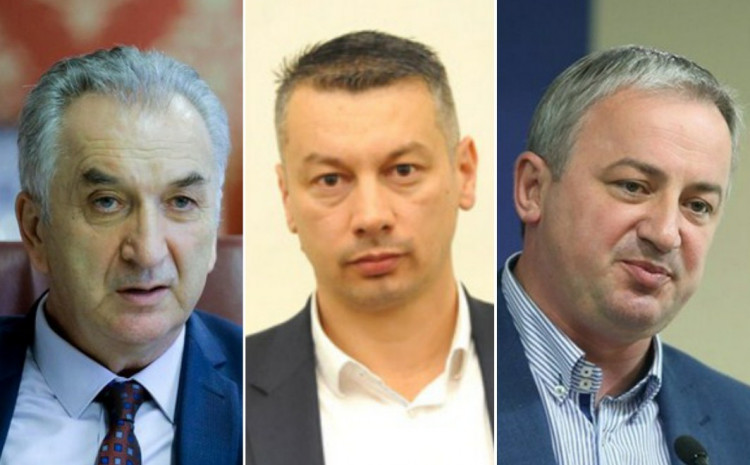 Presidents of opposition parties in Republika Srpska met in Banja Luka on Monday to take a stand on the latest statements by BiH Presidency member Milorad Dodik. On Friday, after meeting with Turkish President Recep Tayyip Erdogan, he said that "the Dayton Accord in BiH is dead" and that a new agreement is needed.
SDS President Mirko Šarović said after a meeting with PDP presidents Branislav Borenović and DNS Nenad Nešić, that they had also discussed resolving the crisis caused by the imposition of changes to the BiH Criminal Code by former High Representative Valentin Inzko.
"We stated that there was no progress in resolving this crisis, and we got a new crisis after Milorad Dodik's position that Dayton is dead and that a new political agreement is needed. SDS and other opposition parties remain committed to the conclusions of the RS National Assembly. We have acted responsibly last several weeks. It seems that the crisis suits the parties in power and that is why a new crisis is being agreed upon, which is more dangerous than the first one. It looks like there is the intention to continue with this crisis process until the elections. The thesis that a new political agreement is needed is the most dangerous statement of recent years. Calling on Dayton 2 and unpacking Dayton is unacceptable for SDS. This is where our paths diverge with the parties in power, this is an adventure in which RS is being introduced," said Šarović.
Borenović said that Dodik's statement was the most dangerous blow to RS and its competencies.
"Instead of resolving the issue of the imposed Inzko law, Dodik is obviously trying to open a new political crisis with the SDA and HDZ. It is an adventure that could have harmful consequences for RS. He obviously prepares, in the next few days, certain representatives in BiH joint institutions to vote for a financial agreement that is very favourable for them, such as the purchase of the ITA building for 100 million KM. I warn them that RS ministers must not vote for an additional 63 million KM. We remain committed to the conclusions of the RS National Assembly that there is no decision-making in BiH institutions while the issue of the imposed Inzko law is not resolved. It can be resolved by an internal agreement," Borenović said.
Nenad Nešić, the leader of the DNS, said that Dodik was playing with fire and that this party would not allow that.
"The paths of DNS and SNSD have never been the same, especially not now. We only support the conclusions of the National Assembly of RS. Here it is clear who will betray a Serb interest – that is the president of SNSD. He is the one who goes to meetings, his ministers participate in decision-making at the BiH level. SDS, DNS and PDP will always be on the defence of the homeland. Unity can only be violated by SNSD. DNS has agreed that Dodik will attend the meeting with Erdogan, but we are not in favour of unpacking Dayton," Nešić said.