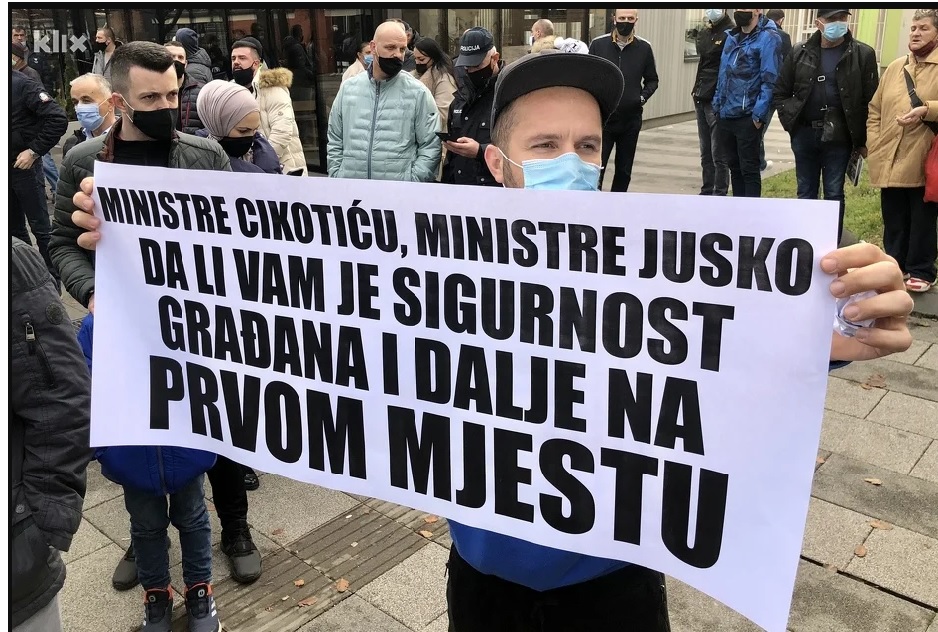 Three unidentified migrants are suspected of killing one person and injuring two other persons in a brawl that was reported in the Sarajevo neighborhood of Ilidža on Tuesday evening, according to the police report.
The victims were identified as BiH nationals. The deceased was 36 years old.
According to police reports, the incident took place Tuesday late evening, at 22:25 hrs. Police officers arrived at the scene alongside the medical team, which confirmed the death of one person and the severe injuries of two others, all three nationals of Bosnia and Herzegovina. According to unconfirmed sources, a group of migrants was stirring up trouble at a coffee shop, with the BiH citizens attempting to remove them from the store. In the brawl that ensued, one of the BiH citizens tried to protect his brother, leading to the migrant stabbing him several times. The immigrants fled the scene, with the police issuing a search warrant.
Outraged locals gathered on Wednesday to protest, claiming that last night's murder in Otes committed by migrants signalled the competent BiH institutions' duty to finally find a way to remove the migrants from the streets. As they pointed out, they will not tolerate the arrogant behaviour of migrants, nor of the institutions. Meanwhile, they called for the intensification of the murder investigation.
Current representative in the Sarajevo Canton Assembly Dževad Poturak also attended the rally and spoke out about the events in Ilidža.
"The question is who is next; my brother, your sister, your child, anyone. Will they kill me? It is us against everyone. We need a real Security Minister who will remove migrants from the streets, and we call on the competent institutions to act and find a way to help the citizens of BiH within 24 hours. We take care of the migrants, and they thank us by killing one of our citizens", Poturak said.
The Mayor of Ilidža municipality, Senaid Memić, expressed his regret and condemned "an unfortunate incident that took place last night in the settlement of Otes, Ilidza, with migrants murdering one BiH citizen and seriously injuring two others".
He expressed his condolences to the victim's family and called on those in charge of order and security to not allow the uncontrolled movement and violation of the law by the persons for whom they are responsible.
"One can't take over the supervision of 3,000 migrants without burdening the local community with unnecessary obligations. We demand accountability from all those responsible. I express my sincere condolences to the victim's family once again; we share their pain", said Memić. /ibna