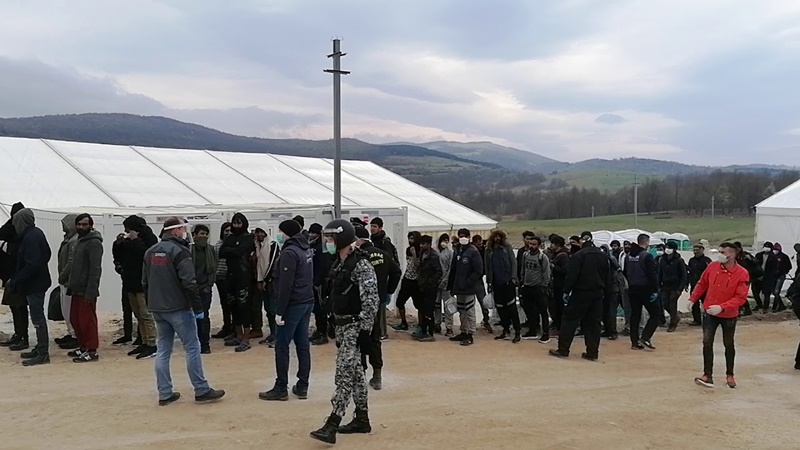 On October 30, authorities in Bosnia and Herzegovina announced that the country has registered 13,683 irregular migrant arrivals so far this year, nearly half of the 25,000 arrivals reported by this Balkan country in 2019.
According to data provided by activist organizations, reportedly 6,377 migrants are currently hosted in centres around Sarajevo and in the Canton of Una-Sana (Bihać).
Local authorities are trying to reduce the pressure on urban centres, especially in the north-west of the country: the "Bira" camp was closed in the centre of Bihac, while another camp will shut down in Velika Kladusa.
Migrants will be transferred to the village of "Lipa", approximately 20 kilometres away, although the facility is a tent camp and therefore unsuitable for the winter months.
The migrants who reach BiH are mainly from Pakistan, Afghanistan and Morocco.
Sarajevo is reportedly discussing with Islamabad a readmissions agreement to deport thousands of Pakistani migrants.
While the number of irregular entries is reportedly declining in BiH this year, evidently a large number of them successfully cross the border between BiH and Croatia. Verily, undocumented foreigners continue to reach Italy through the Balkan route.
On October 31, Authorities announced that had blocked a van with 17 undocumented migrants from Pakistan on board.
The van was stopped last week by the Trieste border police and security officers from Muggia at the Italian-Slovenian border, as it was attempting to cross the Ospo-Noghere after being followed across the border by Slovenian police.
Two Belarusian citizens found in the van's front seats were arrested on charges of aiding and abetting illegal immigration.
In another operation carried out by the Trieste and Muggia police in the northeastern region of Friuli Venezia Giulia, officials followed a car that was driving at a high speed in the area of San Dorligo Della Valle in the direction of Trieste.
When they stopped the vehicle, the officials found six migrants in the car and the trunk. Five were Pakistani nationals and one was from Afghanistan.
The two suspected smugglers, both Pakistani citizens, did not have a driving license. They were arrested for allegedly aiding and abetting illegal immigration. Investigators said the two suspected smugglers intended to bring the migrants to a location near Udine. /ibna