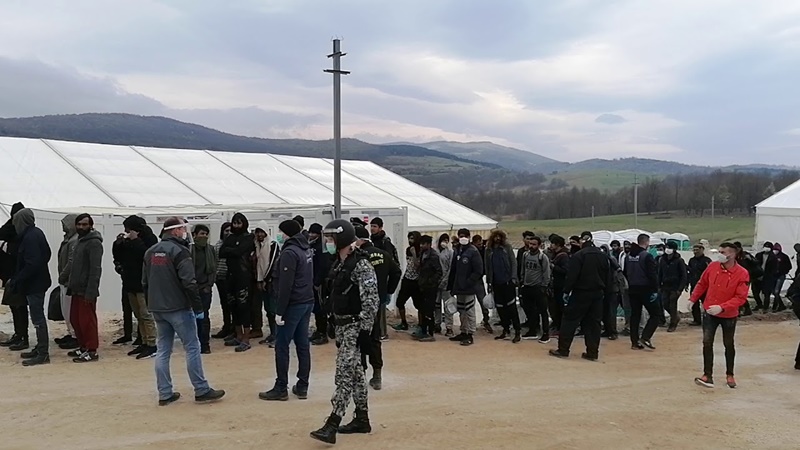 Today, the European Commission adopted an additional €25 million assistance package to support Bosnia and Herzegovina in managing migration.
This new EU funding will mainly address essential needs of refugees and migrants during the winter, providing accommodation, food, access to healthcare and social services. The auxiliary support will also strengthen Bosnia and Herzegovina's capacity in border management, in particular through equipment and training. It will contribute to the fight against and the prevention of migrant smuggling, as well as human trafficking.
"The EU is concerned about the migration situation in Bosnia and Herzegovina, considering that weather conditions harshen and that refugees and migrants are left without the necessary shelter. The EU calls upon Bosnia and Herzegovina's authorities to prevent a humanitarian crisis from unfolding by urgently identifying suitable accommodation for refugees and migrants present in Bosnia and Herzegovina, including families with children and unaccompanied minors," it is stated in a press release.
The EU also expects Bosnia and Herzegovina's authorities to ensure effective coordination in managing migration and asylum, among others by assuming the management of the EU-funded temporary reception centres. The continued EU support to Bosnia and Herzegovina in the area of migration management relies on the respect of domestic law and international obligations concerning the treatment of refugees and migrants, notably minors, together with the safe and unhindered operation of humanitarian partners.
Assistance to manage the refugee and migration situation is part of the wider EU support to the country. With this new €25 million assistance package, the total EU support provided to Bosnia and Herzegovina for migration management since 2018 amounts to €85.5 million, including €10.3 million in humanitarian assistance.
In addition to those funds, since 2007 the EU has been assisting Bosnia and Herzegovina in the area of asylum, migration and border management for an amount of €41 million. Since January 2016, Bosnia and Herzegovina also benefits from the regional programme 'Regional Support to Protection-Sensitive Migration Management' worth €14.5 million for the whole of Western Balkans and Turkey. Moreover, the Instrument contributing to Stability and Peace (IcSP) has financed a regional action to address the challenges posed by COVID-19 amongst migrants, asylum seekers and refugees in the Western Balkans, in particular in Bosnia and Herzegovina and in Serbia, for a total of €8 million.  Since January 2020, the EU has funded the deployment of a Senior Expert on migration and asylum to support the Bosnia and Herzegovina Ministry of Security with a view to facilitate coordination on migration management. /ibna