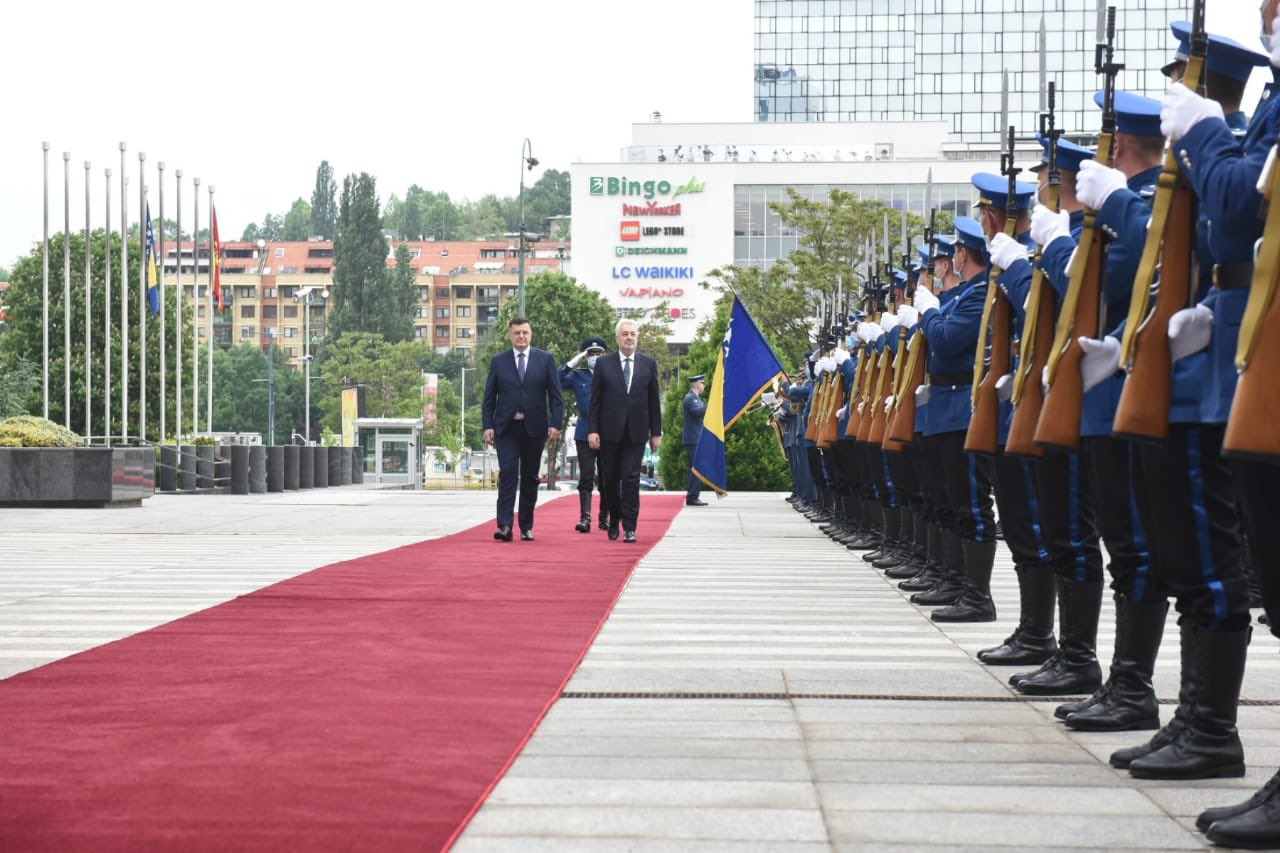 The Chairman of the Bosnia and Herzegovina Council of Ministers Zoran Tegeltija has stated today in Sarajevo that he talked with Prime Minister of Montenegro Zdravko Krivokapić about bilateral relations, regional cooperation, the European path of BiH and Montenegro and the fight against the COVID-19 epidemic.
At the press conference, Tegeltija has said that the solution of the toll issue on the section Trebinje-Herceg Novi, agreed earlier, was confirmed today.
"Our relations are friendly and without any open or controversial issues. That does not exist with Montenegro, because BiH and Montenegro do not have a problem with the border either," Tegeltija said after meeting with Krivokapić and delegations of the Council of Ministers and the Government of Montenegro.
He has stated that the economy was a priority and pointed out that the epidemiological situation had a negative impact on the foreign trade exchange of the two countries.
Tegeltija has announced work on facilitating the crossing border between BiH and Montenegro, which is in the interest of citizens and businesses operators of these two neighbouring countries.
"Connecting Sarajevo and Podgorica, especially on the route Foča-Šćepan Polje is our priority," Tegeltija emphasized.
Krivokapić commented on the recent controversy over statements by Montenegrin Justice Minister, Vladimir Leposavić, who said in March that he is prepared to recognize that genocide was committed in Srebrenica "once this is proven unequivocally."
"Because of Srebrenica, I started the process of dismissing a minister, although I knew it could be an attempt to overthrow the government, the agreement I signed is more important to me than how long the government will last," he said.
He noted that the Montenegrin parliament adopted a declaration accepting an EU Parliament resolution on Srebrenica in 2009.
Krivokapić said that "the worst thing that is happening in this area is that the victims who are irreplaceable for their families are today being used for political purposes."
Krivokapić in Sarajevo also met BiH Presidency members and other officials. Tomorrow, on the second day of the official visit to BiH, Montenegro PM would visit Banja Luka to meet Republika Srpska officials.