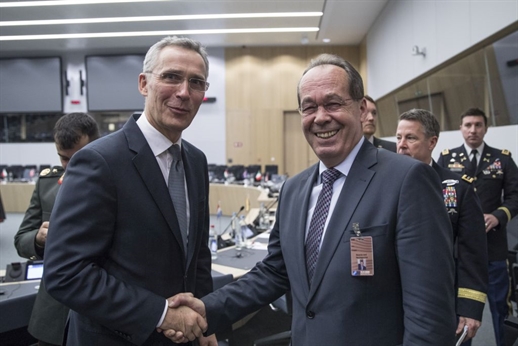 BiH Minister of Defence Sifet Podžić participated in the NATO Ministerial Meeting in the format of the "Resolute Support" Mission, which was held on 13 February 2020 at NATO Headquarters in Brussels.
After the opening and inaugural addresses by NATO Secretary-General Jens Stoltenberg, "Resolute Support" Mission Commander General Austin Scott Miller and NATO High Representative for Afghanistan Nicholas Kay briefed ministers on Afghanistan's current political and military situation as well as on the progress achieved in Afghan security forces and the peace process. After the inauguration speeches, participants discussed the challenges and future joint action in this Mission.
In his address, Minister Podžić emphasized Bosnia and Herzegovina's support to joint efforts and cooperation with operational partners in achieving international peace and security, as well as in building peace and long-term stability in Afghanistan. He confirmed that members of the BiH Armed Forces would continue to participate in the "Resolute Support" Mission. Finally, Minister Podžić emphasized that this readiness was also reflected in the recently submitted document "BiH Reform Program", and that he was pleased that he would work with NATO on the implementation of the Reform Program, as well as on strengthening relations with the Alliance.
At the conclusion of the meeting, Minister Podžić spoke briefly with the Chairman of the NATO Military Committee, Air Chief Marshal Stuart Peach, who wished him well and success in his work.
During this visit to NATO Headquarters in Brussels, at the invitation of the US Permanent Mission to NATO, a delegation of the BiH Ministry of Defence held a meeting with US Assistant Secretary of Defence for Russia, Ukraine, Eurasia and the Western Balkans, Laura K. Cooper, and her associates. The meeting discussed the participation of members of the BiH Armed Forces in international exercises and operations, the importance of cooperation under the US-Adriatic Charter (A5), US support to BiH's defence capacity building, and defence system reforms. In her presentation, Ms Cooper emphasized the acquisition of helicopters as a positive example of cooperation, confirming that the US will continue to support Bosnia and Herzegovina in building its defence capabilities and implementing the Reform Program.
Minister Podžić thanked for the US support for BiH in defence reform, expressing satisfaction that his first bilateral meeting outside BiH, in his capacity as Minister, was at NATO Headquarters and with a senior official of the US Department of Defence.
The BiH delegation included BiH Ambassador to NATO Mitar Kujundžić, Assistant Minister of Defence for International Cooperation Zoran Šajinović, Head of the Military Section of the BiH Mission to NATO, Brigadier Jasmin Čajić, Head of the Office of the BiH Minister of Defense Kemal Korjenić and Deputy Chief of the Military Section of the Mission of BiH to NATO, Brigadier Velibor Purković./ibna