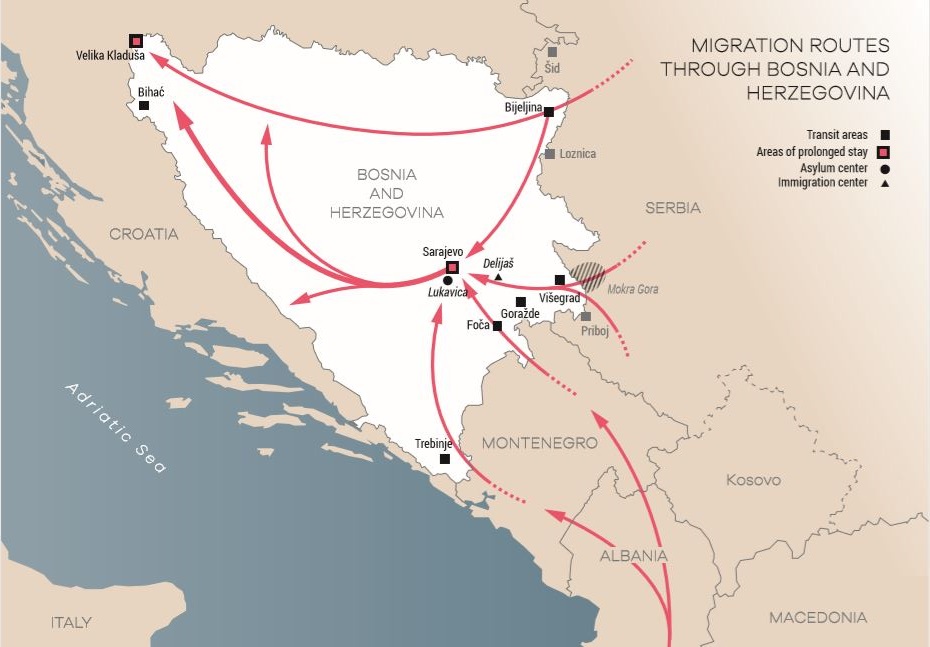 Director of the BiH Service for Foreigners' Affairs, Slobodan Ujić, said that the agency's officials have begun to compile a list of 10,000 migrants to be deported from BiH.
He noted that the Service for Foreigners' Affairs is acting at the request of the Minister of Security in the BiH Council of Ministers, Fahrudin Radončić.
"We have initiated a procedure for filling out a questionnaire for those who wish voluntarily to return to the countries where they came from. This mainly applies to persons from Pakistan, Algeria and Morocco, as most of them are in reception centres. Only citizens from Syria are not included in procedure for now, because of the situation in that country", Ujić said.
He stated that the Service already requested the assistance of the embassies of these countries to identify these migrants, but that willingness for cooperation was low.
According to Ujić, most embassies claim that they do not have a database and that they can perform checks if these persons commit a criminal act.
"However, we are working on making a list of all those who want to return to their countries voluntarily. True, this is a complex job because many do not want to cooperate. But, we will engage all our resources and have already began working on that", Ujić said.
Minister Radončić told FTV on Wednesday that "BiH will not be a 'parking lot for Europe' for migrants and that 10,000 of them will be deported from BiH".
"My position is clear; I requested the Director of the Service for Foreigners' Affairs to make a list of 9-10 thousand illegal economic migrants to see how to deport them from BiH. We want to see who is consenting to voluntary deportation and what to do with the thousands of those migrants who do not want to show their passport, in order to identify who they are. It is a huge security problem, it is ruining the lives of our citizens", Radončić said.
He stressed that he would not deal with refugees from Syria at the moment because this is another problem that needs to be addressed. He also claims that he is aware that the decision on the deportation will not be received good in some EU countries, but that does not mean that BiH is inhumane.
"All these migrants come from countries that are richer than BiH and must be deported. Instead of giving us money to keep the migrants here, the EU should give us money to deport them. We are not inhumane, but now we will have 40 – 50 thousand unemployed, and we keep 10,000 migrants waiting for BiH to be a parking lot for Europe. That will not be possible", Radončić said.
He also said that the BiH Ministry of Security believes that every cantonal government should take care of migrants. He added that the Una-Sana Canton would not receive any assistance to accommodate migrants at Camp Lipa because the Ministry believes that they should leave BiH./ibna