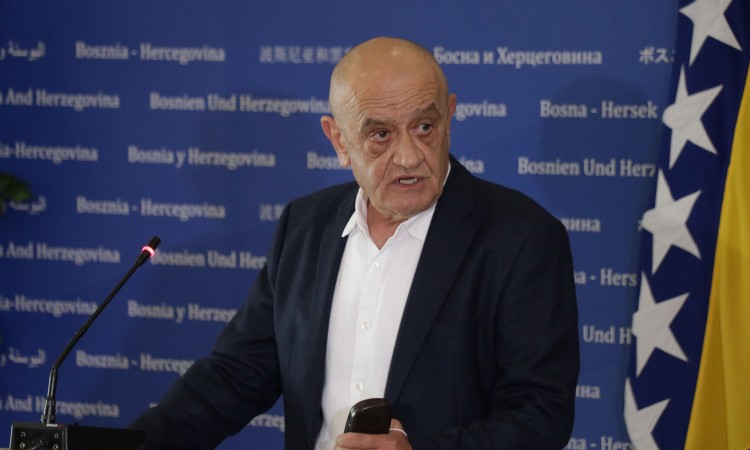 The Ministry of Finance and Treasury of Bosnia and Herzegovina submitted yesterday the Draft Law on the Budget of the Institutions of Bosnia and Herzegovina and International Obligations of BiH to the country's Presidency.
BiH Minister of Finance and Treasury Vjekoslav Bevanda recalled that BiH did not have a budget amidst difficult conditions, when it was necessary to react quickly to the health crisis and the economic consequences of the Covid-19 coronavirus pandemic.
"Although we have not lost control or endangered the fiscal stability of BiH, interim financing significantly limits us and slows us down to respond to regular activities, which extend beyond the response to the consequences of the pandemic", said Bevanda.
He believes the adoption of the draft budget in the Council of Ministers and its submitting to the constitutional proposer to the Presidency of BiH sends a positive message, while funds will be provided in the second half of the year for projects to respond more strongly to important issues, such as the migrant crisis and meeting the conditions for joining the European Union.
According to the statement, many are not satisfied with the proposed budget for it is seen as too restrictive in certain areas, but this year unexpected priorities arose after the coronavirus. However, the functioning of any BiH institution was not questioned due to the reduction of planned amounts on certain items.
He expressed hope that the work related to the adoption of the budget would soon be completed in the Presidency of BiH, and ultimately in the Parliamentary Assembly of BiH, and that this will not happen in the last days of this year as was the case with the previous one.
The decision on interim financing for the second quarter will remain in force until July 1, and all payments are within the legal framework, the Ministry of Finance and Treasury of BiH announced.
The Ministry of Finance and Treasury of BiH acted professionally and in the conditions of budget correction after the conclusion of the Presidency, and will be ready to continue acting in accordance with the Constitution and laws, whether it is a new budget or making decisions on temporary financing. /ibna