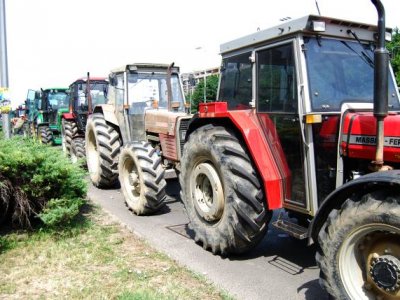 By Mladen Dragojlovic – Banja Luka
As they had previously announced, the milk producers from the entire BiH drove their tractors and other vehicles on the border crossings with Croatia in order to ban any truck with milk and milk products on the way in BiH. Several border crossings were in total blockade for one hour, but later farmers lifted the ban on traffic and left trucks and other vehicles in the country.
President of Farmers association of Republic of Srpska, Vladimir Usorac, said for IBNA that they will remain at the border crossings until they, on any way, get their license to export milk and milk products from BiH to EU countries.
"At this moment, (about 3 pm Wednesday) I have information that members of the Associations in BiH blocked all border crossings in same manner. It means that all trucks can go through crossings except those which contain any milk or milk products", said Usorac.
He added that, according to his information, police in Orasje forbade farmers from blockading the site and that there are "some problems". Usorac added that delegation of Farmers association of Federation BiH went on Orasje to calm the situation and to resolve this problem.
He said that on border crossing in Gradiska, where he drove his tractor, four trucks with meat entered BiH without problems. Usorac said that EU exporters know about the blockade and they didn't send trucks in BiH.
"We are not afraid that EU will impose sanctions against us. We already are under sanctions to export our products in EU countries so what else they can do? BiH farmers have a surplus of 3,500 liters of milk, which we cannot sell because of imported cheaper milk from the EU. Milk producers demand additional tax of 36 eurocents per liter for imported milk, said Usorac.
He had earlier told the media that BiH farmers arranged the exportation of 15,000 ton of meat in Turkey, but the EU banned the transport in Bulgaria. As an explanation, said Usorac, EU officials said that there is a danger that track from BiH may have an accident and roll over, in which case meat can infect wild animals in Bulgaria as a member of the EU.
A day before protest, BiH officials from several institutions met in Sarajevo in order to at least reach a temporary compromise, but with no success. EU demands that BiH institutions establish efficient and certificated control system in food production and, after that, BiH exporters will be able to export their products to the EU. At the same time, EU insists that BiH keeps its trade system with Croatia as it was before this country entered the Union.
One of the absurd in this situation is that three types of cheese from BiH, "Vlasicki", "Prozorski" and "Livanjski", among 409 samples, received golden awards on 12 cheese exhibitions in Austria, but they cannot be exported – just as samples – as products, which EU citizens can buy in the stores.