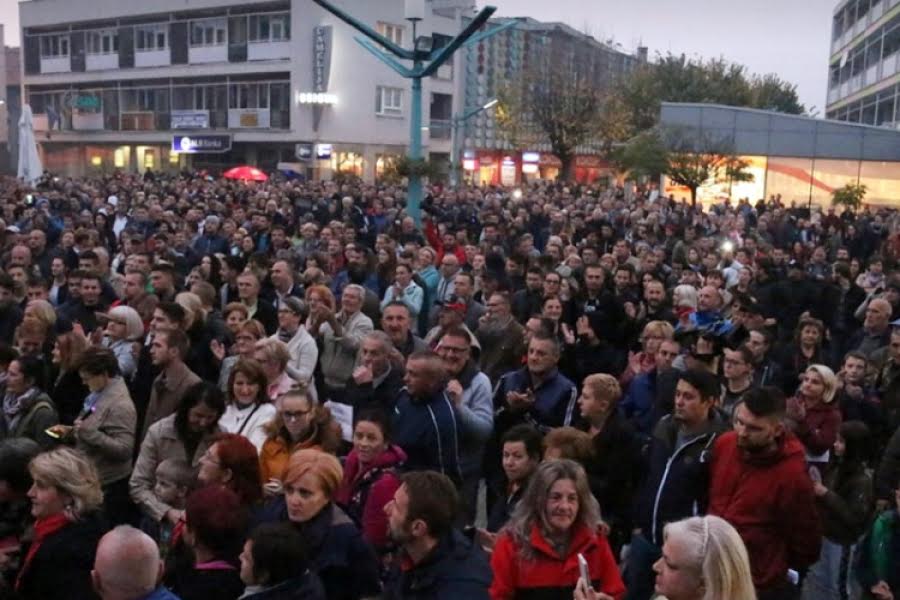 Bihać is a city in the far West of Bosnia and Herzegovina, near the border with Croatia.
During the war, two Bosniak fractions and Serbs were in conflict here, a situation that created a very difficult post-war environment to live in. After the end of the war, Bosniaks in the city were led by a divisive split with some supporting the Army of the Republic of Bosnia and Herzegovina and other being on the side of the Autonomous Province of Western Bosnia, loyal to local politician Fikret Abdić.
Bihać went trough years of feud after the war in order to overcome these voracious differences and create a "cool", relaxing ambient where they would coexist peacefully, in a practically economy based city.
But then came the migrants and, the achieved equilibrium was once again shattered.
Currently, since New Year, Bihać and neighbouring town Velika Kladuša have been under a migrant "siege" – people from the Middle East who are trying to reach Western Europe countries, seeking a better life. Locals began by being very compassionate and wanted to help them stay in a secure place, providing them with food and shelter. Croatian Border Police was preventing them and continues to do so, in accordance with central EU practices, from entering its territory, thus increased migrant flows was the reason behind the jamming of Bihać, whose citizens feel socially suffocated.
According to police information, not only migrants are more, but criminality levels are higher, too because of crimes committed by them. Breaking into houses and stealing food and blankets during the landlords' absence are quite common petty crimes these days. However, there are also those migrants who are satisfied with a proper roof over their head, some fresh food and steal nothing. Still, Bihać people could feel nothing but safe at their home city.
During the first days of October, when the country was nearing the end of the election campaign (general polls were held on October 7), the daily number of migrant arrivals in Bihać was about 200. That was the exact moment that the local population said "enough is enough".
On Saturday, during the first protest against the arrival of migrants in Bihać, several thousand citizens blocked the street that leads to the capital Sarajevo, in order to demonstrate their opposition "via" a way migrants themselves use to get to the city. It was a blockade that lasted long, while rally participants promised to keep protesting until the government listen to them and offers a solution to their growing problem.
"This has crossed the (red) line. I am a foreigner in my own town. Bihać residents are ready to welcome anyone, but I am forced to protect my home with a gun and that is something we did not deserve (to go through). We will not allow ourselves to become a minority in our own town and if this lasts longer, I am afraid we will become a minority. Authorities prove inefficient; they do nothing", said a Bihać resident on Saturday evening to the media.
Another person stated he had been attacked by migrants several times.
"I could not defend myself because they are all armed with knives and rods. This will not end well. This is just the beginning", he told the press.
Loyal to their promise, they held a second gathering on Sunday morning. Due to bad weather, they broke it off. The next such rally is scheduled for Monday.
In fact, nobody knows how many migrants are in Bihać right now. Some estimate there are between 3 000 and 5 000, with most of them sleeping in the open totally exposed to weather conditions. State institutions should provide them shelter, food and medical care, but like elsewhere, in European countries, too, the process is rather slow. Meanwhile, citizens are against additional housing containers in their territory and demand a faster and if not sustainable, at least a more effective solution.
BiH is one of the poorest countries of the so-called Balkan route. When all other countries in the wider region closed their borders, the "Bosnian route" became the main route as a way for migrants to move around Balkan countries -after entering Bulgaria or Greece from Turkey- and try get to central or northern Europe. Official information say that in 2018, already over 15 000 migrants have illegally entered Bosnia and Herzegovina. Although they wish to continue their journey, usually they get stuck in Bihać.
Simultaneously, Bihać citizens are asking for nothing more or less than feeling secure in their own back yard. And they do have every right to demand so…. / IBNA