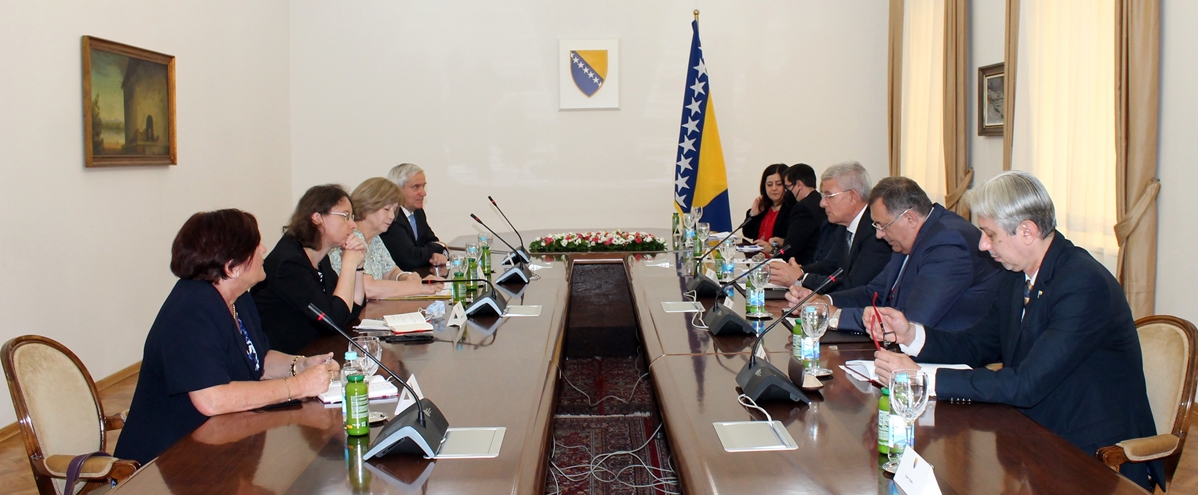 BiH Presidency Chairman Milorad Dodik and BiH Presidency Member Šefik Džaferović received Tuesday, Isabelle Dumont, diplomatic adviser to French President Emmanuel Macron.
The members of the Presidency of BiH thanked the people and the Government of the Republic of France for their support to Bosnia and Herzegovina in the EU integration process. The continuity of France's political attitudes towards BiH as a multi-ethnic, sovereign state of democratic order, integrated in a stable region and Europe, was stated.
"In this context, France in BiH is implementing various cooperation programs to support Bosnia and Herzegovina on its EU path. This cooperation, with an integrated approach, is implemented in four main areas: internal security, technical cooperation, including governance and higher education. , and scientific cooperation, culture and civil society, including the promotion of Francophonie and the continued takeover of the Acquis, "the BiH Presidency said in a statement.
Adviser Dumont reminded the members of the Presidency of BiH that at the Summit in London in 2018, France decided to expand the mandate of the French Development Agency (AFD) in Bosnia and Herzegovina, which would be responsible for financial investments in significant projects in Bosnia and Herzegovina in the coming years; especially in the fields of regional integration, environment and climate, innovation and the digital economy.
It was concluded at the meeting that in the coming period, the political dialogue should be strengthened by exchanging visits of officials from the two countries. On that occasion, members of the Presidency of BiH reiterated the invitation to the President of the Republic of France, Emmanuel Macron, to visit Bosnia and Herzegovina.
The meeting was also attended by the Ambassador of the Republic of France to Bosnia and Herzegovina Christine Toudic, and the Head of Mission to the Directorate for Continental Europe of the Ministry of Europe and Foreign Affairs of the Republic of France Guillaume Rousson.
On behalf of the member of the Presidency of Bosnia and Herzegovina, Željko Komšić, advisers in the Cabinet, Slaven Kovačević and Davor Vuletić attended the meeting.