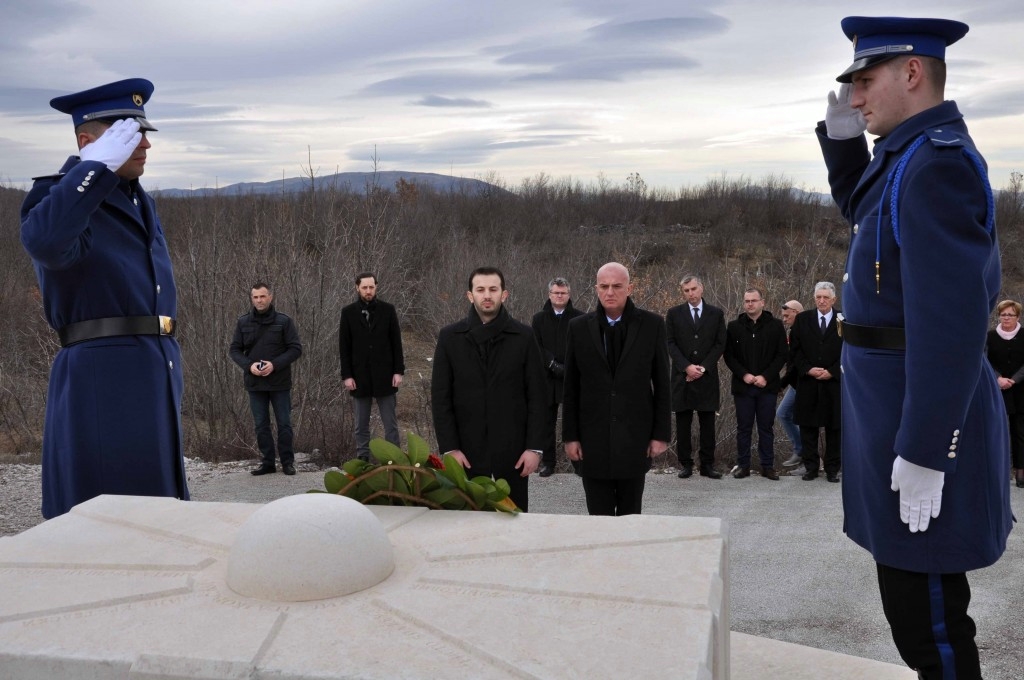 With the laying of wreaths in front of the memorial place at Matića Brdo near Mostar, BiH on Tuesday marked the 15 years from the death of former President of fYROMacedonia, Boris Trajkovski. Along with his crew and crew members, Trajkovski died in an airplane crash during his trip to Mostar at the 2004 International Investment Conference.
Wreaths were laid by the delegations of the Government of the Republic of North Macedonia, the Presidency of BiH, the Office of the President of the Republic of Νοrth Macedonia, the Parliamentary Assembly of BiH, the Ministry of Foreign Affairs of BiH, the Embassador of the Republic of Νοrth Macedonia in BiH, the Government of the Herzegovina-Neretva County and the City of Mostar.
The minister of local self-government Suheil Fazliu, οn behalf of the government of North Macedonia, said that "the late president Trajkovski left a great mark on Macedonian history".
"Trajkovski was a man from whom young politicians can learn a lot. He was a brave and determined man who knew how to, in difficult moments, make decisions that could cost him political points, but decisions that were good and in the interest of all Macedonian citizens", said Fazliu.
Asked to comment on the two investigations conducted in BiH with regard to the plane crash and some doubts in North Macedonia as to the real circumstances of Trajkovski death, Fazliu said that "suspicion exists because Macedonia had a president who knew how to make brave decisions and everyone knows that such politicians often pay with their lives".
"There is a suspicion among the Macedonian people that an assassination against President Trajkovski was carried out, but no one can confirm it without evidence", Fazliu said.
Apart from the delegations from North Macedonia, the ceremony of the 15th anniversary of the death of Boris Trajkovski, was also attended by the county minister of veterans Oliver Soldo, mayor of Mostar Ljubo Bešlić and representatives of the City Administration of Mostar.
The aircraft of the government of fYROMacedonia crashed on February 26, 2004, in the village of Rotimlje. Apart from Trajkovski, on board the plane were the advisors from his office Dimka Ilkova-Boskovic, Risto Blazevski and Anita Lozanovska, as well as Mile Krstevski, from the Ministry of Foreign Affairs, the security personnel, Boris Velinov and Ace Velinovski, and the pilots Marko Markovski and Branko Ivanovski./IBNA