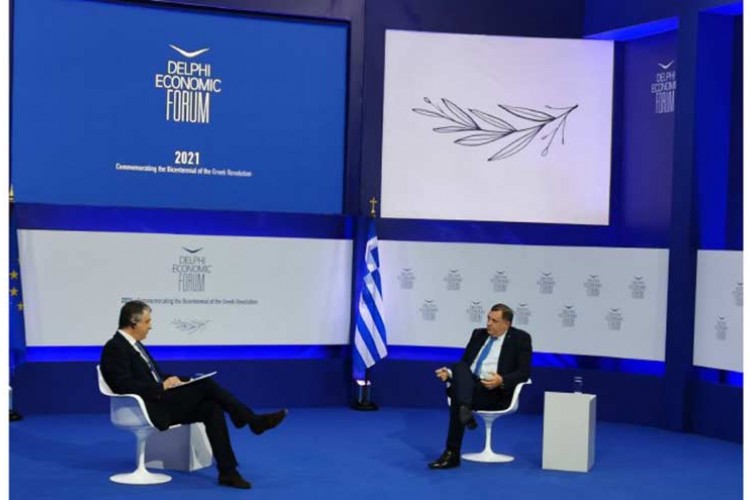 Serb member and BiH Presidency Chairman Milorad Dodik said on Friday in Athens that Republika Srpska is trying to defend its status and autonomy, not striving for secession, but exclusively advocating the respect for the original Dayton Peace Agreement.
Dodik said the consensus on European integration existed in BiH, but that working on many economic and political parameters was required.
"We cannot talk about the European path without talking about the current political situation in BiH. Many believe that BiH has a systemic error in terms of its existence. There are different opinions – according to one of them, the signing of the Dayton Accords itself began the integration process. The second opinion goes towards unitary country creation, while the third goes towards the need of full autonomy preservation, and the fourth that BiH should disband peacefully," Dodik said at the Delphi Economic Forum.
He emphasized there was no country in the world with the High Representative who decides on internal issues, and that the international community in BiH, through the High Representative, had imposed many reforms with no effect.
"Because of all that, BiH is a much more complex country today, and many even consider it a failure or a country of frozen conflict, which is not able to find a basic internal consensus," Dodik added.
He says that he is not sure that there is a place for BiH in the EU and that there are double standards within the Union, citing North Macedonia as an example, as it has fulfilled all the conditions but still waiting for membership.
"We have to solve many economic and political issues, while the situation has changed a lot since the beginning of negotiations, as well as accession conditions," Dodik said.
He stated that in BiH, it was not allowed to talk about anything other than BiH itself, although the entities and constituent peoples were willing to discuss many other topics, the high representatives were trying to centralize the country and take away the autonomy of Srpska.
Dodik also referred to the complexity of the political system in BiH, recalling the fact that the Presidency of BiH consists of three members, but that Croats are constantly losing their representative, as the Željko Komšić is not a representative of the Croatian nation in BiH.