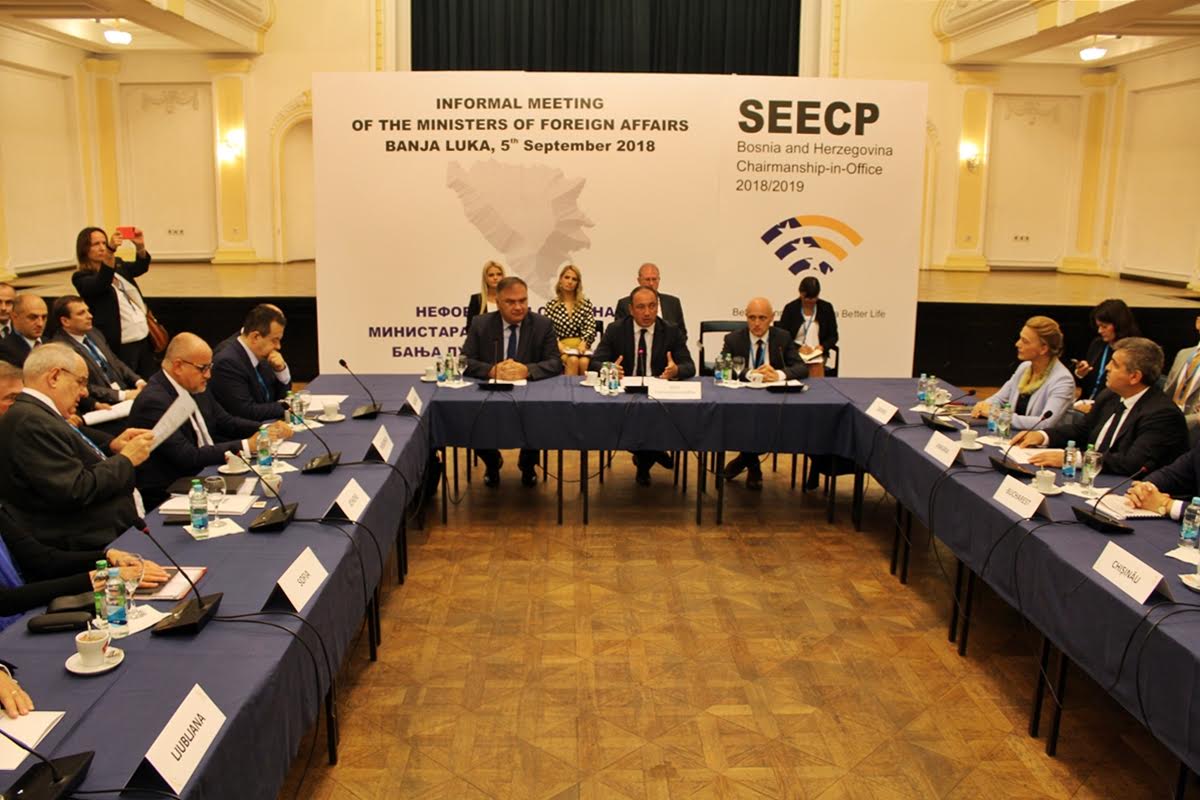 The informal meeting of the ministers of foreign affairs of the South East European Cooperation Process (SEECP) countries concluded in Banja Luka on Wednesday.
Only four ministers participated in it while other countries were represented by deputies or other officials.
Aside from Bosnia and Herzegovina's Minister of Foreign affairs, Igor Crnadak, who was the host, the meeting was attended by Croatian Foreign Minister Vesna Pejčinović Burić, Serbia's FM Ivica Dačić and Montenegro's counterpart Srđan Darmanović, and the Deputy Ministers of SEECP countries, representatives of the European Union and the Regional Cooperation Council (RCC).
During the meeting, BiH received full support for the priorities and the topics it plans to fulfill during its presidency over this process. At the press conference following the meeting, BiH FM Crnadak said that the motto of the presidency is "Better Connection for Better Life" and, that this was the reason that attention was mostly paid to the development of the infrastructural and digital connections as well as the connections among the young people in the region. All participants expressed the commitment to the process of jointly solving or addressing common problems such as organised crime, migration and the fight against terrorism.
Crnadak announced that BiH, during its chairmanship of the SEECP, will organise a parliamentary conference, a business forum, as well as a diplomatic school for young diplomats. In June 2019, the presidency will conclude with the summit of the process for co-operation in South East Europe. The country's Foreign minister believes that the SEECP informal meeting approves of Banja Luka, Republika Srpska and BiH as core destinations in the wider region, practically putting them on the organisational map of political dialogue. As he emphasised, participants also discussed regional ties with the joint message being that Belgrade and Priština should do everything to avoid complications in the negotiations.
"I hope an agreement will be reached that would be acceptable by both sides, and which would ease relations not only in the region, but in Europe", he said.
Answering to RS President and head of the Alliance of the Independent Social Democrats (SNSD), Milorad Dodik's criticism, who said that the Bosnian FM recognised Kosovo by inviting the country to participate in the meeting, Crnadak said that, thanks to the SNSD, Priština was granted the right to attend the SEECP.
"If anyone denies what I will say now, I will resign immediately. Belgrade and Priština have an agreement over (their) participation in regional events. Based on this agreement, in 2014 at the SEECP summit in Bucharest, it had been decided that Kosovo can participate in the SEECP, and people from the SNSD voted in favour of it. Check who has been at the Council of Ministers of Bosnia and Herzegovina until 2014", Crnadak noted.
The meeting was held just a few metres away from the Palace of the RS president in downtown Banja Luka but Dodik remained untouched by the fact. His only link with the SEECP meeting was the meeting he held with the Serbian FM, Ivica Dačić, prior to the SEECP one. One of the reporters stressed that "a few metres' distance between buildings" could be translated into a huge gap in politics…. / IBNA