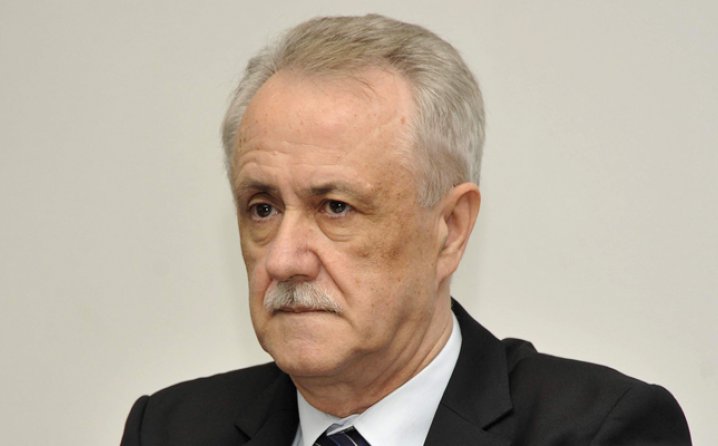 Sarajevo, December 22, 2014/ Independent Balkan News Agency
By Mladen Dragojlovic
Federation BiH vice president, Mirsad Kebo (photo), sent a letter and documents to the Office of BiH chief prosecutor, Goran Salihovic, revealing one of the most hidden secrets about war crimes against Serbs in BiH, during the 1992-1995 war.
In his letter, which he sent few days ago, Kebo provides evidence that two high ranking officials were 10 meters from the place where members of Muslim "El Mujahid" brigade beheaded one Serb prisoner. As he says in the letter, the two officials who were present are the president of the House of representatives in BiH Parliament Sefik Dzaferovic and now retired general of the Army of the Republic of BiH, Sakib Mahmuljin.
Since, after first announcement, the Media in BiH begun to speculate on names of officials, Kebo decided to send part of the documentation to the Media in order to stop all speculations.
In one of the documents sent to the Media by Kebo's office, a policeman who was acting as a guard of Dzaferovic and Mahmuljin during their visit to the village Vozuca, near Zavidovici on April 18, 1994, wrote that the delegation stopped on a military checkpoint.
"We were informed that mujahideens captured one Serb and that "liquidation is ongoing". We were following Zavidovici police commander, Sefik Dzaferovic, general Sakib Mahmuljin and police officers Kasim Alic and Kemal Ibrakovic, the policeman wrote in his report.
Kebo, in his letter to Salihovic explained that, as the entity's vice president, has gained the confidence of a number of citizens.
"They provided me with information and part of a documentation related with this case, which raises suspicions that Sakib Mahmuljin and Sefik Dzaferovic were just 10 meters from the place where members of "El Mujahid" killed (beheaded) a Serb civilian. Their crime is that they were witnesses of this crime and didn't report it to the relevant institutions", Kebo mentions in the letter.
Dzaferovic addressed the media in Sarajevo on Moday claiming that Kebo accusations are not true.
"I don't have official confirmation that Kebo mentions my name in the letter. If he did, I reject that as a big manipulation and a lie. He will have to prove these accusations to the court", said Dzaferovic.
Expert for terrorism, Dzevad Galijasevic, told IBNA that Kebo publicly said something that BiH Prosecution office already knows, but didn't want to investigate. Now, he said, they will be forced to act on the public accusations.
"It is very good that Kebo, as a Bosniak, is publicly speaking about war crimes committed by mujahideens and members of the Army of BiH against Serbs during the war. But, Kebo during the war was in charge of a company which was engaged in burying bodies of killed Serbs and this can be his repentance. Second, his letter is in the framework of the political confrontation with the Party of democratic action (SDA) and Bakir Izetbegovic. Kebo does not support Izetbegovic's ideas to make a party localised on Federation BiH without any influence in the Republic of Srpska and in this way he is trying to break his authority", said Galijasevic.
But, he added that it is positive that one of the highest ranking Federation BiH officials brought up a story about war crimes against Serbs, since all this time after war these victims were being downgraded. Galijasevic hopes that investigation on this case will be a trigger for similar investigations for many Serbs killed in brutal ways by Bosniaks and foreign mercenaries.
"During  the war, there was an attempt to establish an Islamic country in the heart of Europe, a long time before IDIL and El Baghdadi. War crimes committed by "holy warriors", mujahideens, in fact extremists who came from islamic countries, must be uncovered and I hope that this is just the beginning", said Galijasevic.