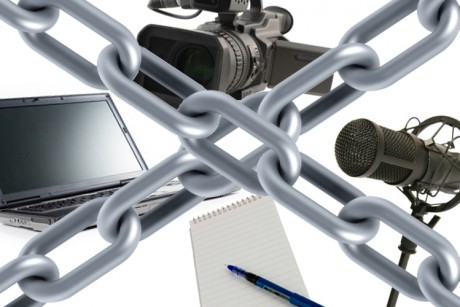 Banja Luka, December 29, 2014/ Independent Balkan News Agency
By Mladen Dragojlovic
Sarajevo police raided the newsroom of BiH internet portal klix.ba, on Monday morning, and confiscated their computers and documentation in order to find evidence about, as they said,  illegal wiretapping of Republic of Srpska Prime minister, Zeljka Cvijanovic.
This portal was the first among many Media which broadcasted the tape with, in which allegedly, Cvijanovic can be heard conversing with an unknown person. On the tape, Cvijanovic is saying that RS ruling party, Alliance of Independent Social democrats (SNSD), bought two MPs in entity Parliament. Right after this affair reach the public, Cvijanovic and SNSD president, Milorad Dodik, denied these accusations.
The case occurred right before the constitution of the newly elected RS Parliament and later, on the first session, two of opposition MPs left their parties and declared themselves as independent representatives.
In a country as divided as BiH, the raid in the newsroom united the journalist community in the whole country. Media associations, newspapers, TV stations and most of journalists in both entities in BiH condemned the raid. Association "BH journalists" Secretary General, Borka Rudic, said that this is police repression on the freedom of Media and freedom of speech.
"The main problem is that the police is trying to put the blame on just one Media in BiH, for a criminal act that was evidently committed in RS. Journalists have the right to protect their source. Also, according to the Council of Europe Declaration, Media have a right to publish information which is important for the public, even if that information can disturb the public", said Rudic.
She added that criminal laws in both entities in BiH provide the protection of journalistic sources and that broadcasting of this tape was a professional act.
Office of the international community High Representative announced that Media freedom is a measure of the society's democratic maturity.
"OHR BiH is an organisation that advocates the freedom and independence of media and media's obligation to report objectively and professionally. Media play a crucial role in building democracy and understanding in BiH. Their ability to operate freely across BiH is essential", said an announcement from OHR.
After the tape was broadcasted, police in RS concluded that it is mounted and not authentic. During investigation in this case, RS police called two of main persons on klix.ba in Banja Luka and interrogated them. As they later said, they were under pressure to say who gave them the tape. When police raided the newsroom, on Monday, the journalists who were left blocked there put the transparent on the window saying: "Journalism is not a crime".
Newly appointed RS Interior Minister, Dragan Lukac, told the media that he knows of the raid and confirmed that RS police asked their colleagues in Federation BiH to conduct the operation. He also confirmed that RS police officers were involved in the raid.