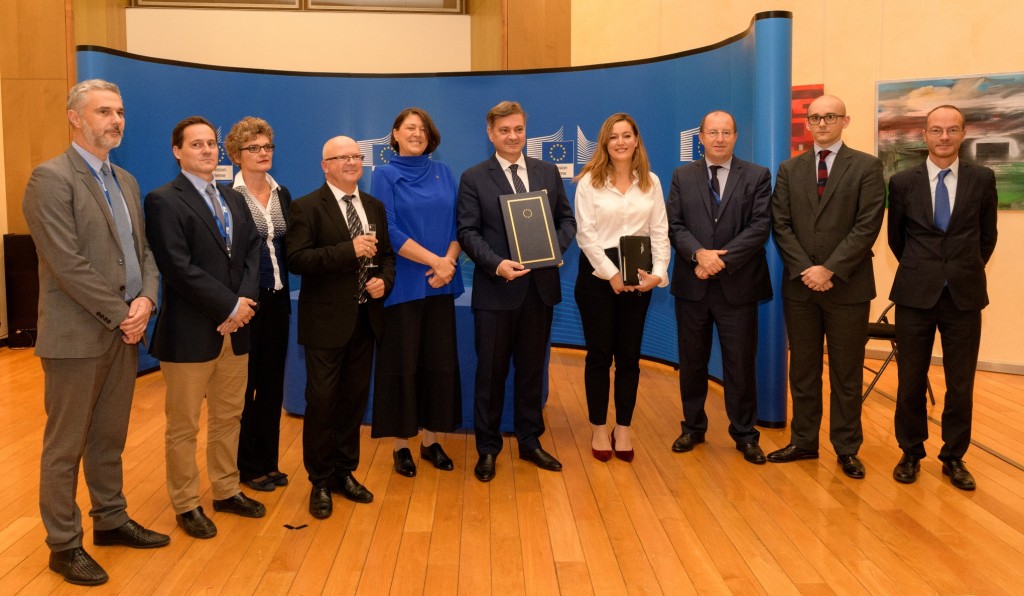 The BiH Council of Ministers Chairman, Denis Zvizdic, signed on Monday afternoon the Transport Community Treaty between BiH and the EU. The signing ceremony was held in Brussels, in the presence of the EU Commissioner for Mobility and Transport Violeta Bulc.
"BiH membership in this Community was a basic requirement for activating the funds for the four infrastructure projects approved at the Summit of the Western Balkans leaders in Trieste", the Council of Ministers announced.
The first project is a section of the Corridor "5c" location between Ponirak and Vraca, or Zenica Tunnel, worth € 83.9 million, of which BiH received a grant of € 15.9 million. The second project is a section Zenica-Gracanica with a total investment value of € 66.9 million, and the grant for BiH is € 11.8 million. The third road section is Johovac-Rudanka, worth € 80 million, and a grant for BiH is approved in the amount of € 15.3 million, while Luka Brcko is the fourth project worth € 10.1 million, for which BiH grants are granted in the amount € 3.1 million.
"The funds received represent a huge investment value of around € 250 million, of which BiH has received about 46 million of grant funds. It will enable the realization of these four extremely important projects for infrastructure improvement of the environment in BiH", said the Council of Ministers in their announcement. This will be a basis for strengthening the economy and attracting foreign investments.
The Council approved the signing of the Transport Community Treaty on September 5 and finally joined other Western Balkans governments that signed the treaty in a summit in Trieste, Italy earlier this year. Accession to the treaty was put on hold due to differences between the governments on state and entity levels over the country's representation in the Community.
According to the Council of Ministers, BiH will be represented in the Transport Community by the state Ministry of transport and communications. However, the decisions will be made by consensus of the RS, the Federation BiH entity ministries and the BiH state ministry. This will complicate the whole procedure since the, so called, "coordination mechanism" provide the obligation of consensus on all important questions in decision making. The mechanism should prevent the outvoting in state institutions since Bosniak and Croat representatives easily can vote contrary to Serb representatives and decisions would be adopted in, as RS Government waned in the past, unfair manner./IBNA