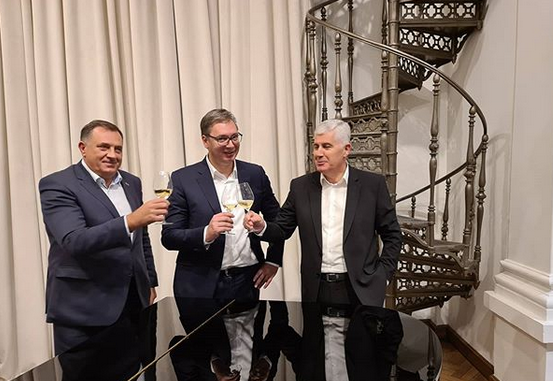 What the President of Serbia Aleksandar Vučić described as a "friendly meeting" was not received in the least friendly way in BiH, at least for the Bosniak and Croatian political parties.
The Bosniak reactions to Vučić's meeting with Serb member of the BiH Presidency and leader of the SNSD -the largest party in Republika Srpska- Milorad Dodik, as well as with the President of the Croatian Democratic Union of BiH Dragan Čović, were very similar to the ones observed after the same BiH duet met with Miroslav Lajčák and after Dodik's contacts with President and Prime Minister of Croatia, Zoran Milanović and Andrej Plenković respectively. Indignant that he was not invited to the Belgrade "party", the president of the Bosniak SDA Bakir Izetbegović said that "the current relationship between officials in Zagreb and Belgrade towards Bosnia and Herzegovina is not good, especially in the year marking the 25th anniversary of the Dayton Peace Agreement".
"They should not do that; they should instead include all three parties in all talks and the state of BiH, its structures and hierarchy should be respected", Izetbegović emphasized.
Had he been invited to attend that meeting, he said he would have accepted the invitation as he always responds to such invitations, especially because he believes the image of BiH must be three-dimensional and, back when he traveled to Zagreb for the meeting, he was convinced there were too many one-sided stories.
"Had we met the demands of the Croatian side, we would have strengthened the tools and mechanisms by which they could do what they are doing now indefinitely. This means there is no appointment of the FBiH Government without explanation or completion of the FBiH Constitutional Court, and that they choose which laws will be adopted. We want to preserve democracy, the House of Peoples of the Parliamentary Assembly of Bosnia and Herzegovina cannot completely annul the will of the majority of the House of Representatives, and that is what's happening right now", Izetbegović underlined.
While Vučić called the meeting "a conversation between friends", Čović said that it was "friendly". To a question regarding the negative reactions from Sarajevo and the claims that the formation of a Serbo-Croatian association was underway, Čović replied that he would not comment on such assessments, because they were common sense.
"Had we not have met, some would have complained about why we are not meeting. When my colleague Izetbegović and I were in Zagreb, some commented on why we went to Zagreb and not somewhere else. The assessment was that we would meet and talk, and I do not interfere in that, nor do I care whether it is President Vučić and colleague Izetbegović or someone else", said Čović.
It is quite certain that Dodik and Čović will not simply stop meeting with various interlocutors, whether Izetbegovic likes it or not. Furthermore, the fact is that Izetbegović should ask himself why it is he was not invited.
The answer lies in his hands and not in someone else's. /ibna