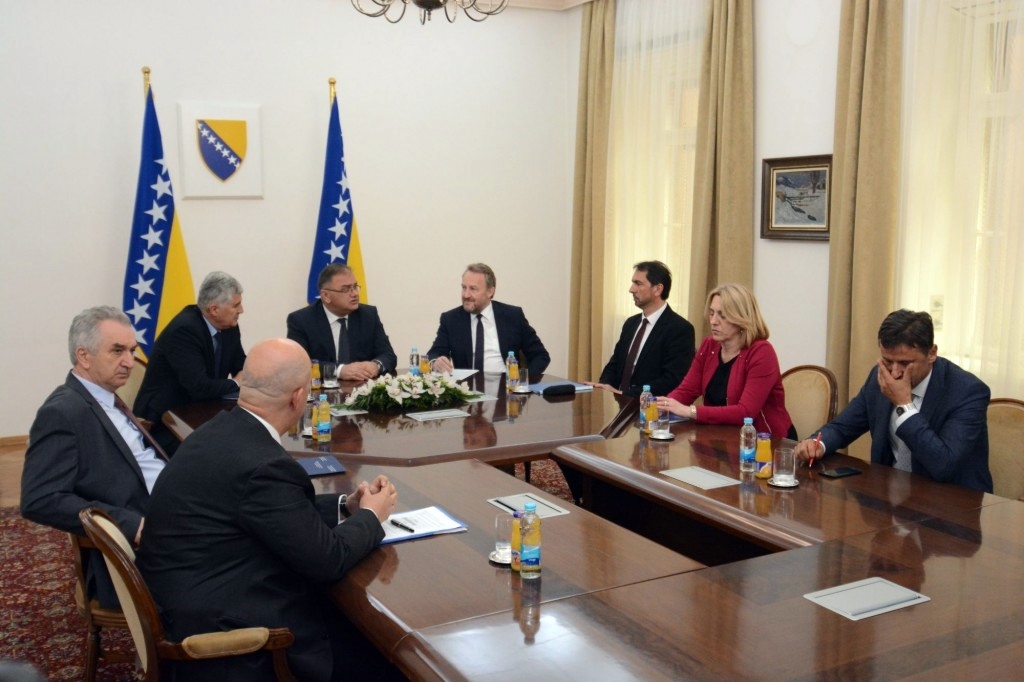 In an attempt to push authorities to submit the answers for European Commission Questionnaire faster and to meet the end of June deadline, Chairman of BiH Presidency, Mladen Ivanic, called on Thursday the meeting of all relevant officials to discuss this issue.
BiH received the Questionnaire at the beginning of December 2016 and it is consists of 33 chapters and more than 3000 questions. The document was handed over by EU Commissioner for European Neighbourhood Policy and Enlargement Negotiations, Johannes Hahn, and Chairman of the Council of Ministers, Denis Zvizdic, received it in the name of state institutions.
"That is a key precondition for obtaining candidate status. There is an important fact, for the candidacy status of BiH is only important to properly and professionally in the time provided, for about six months, answer questions from the Questionnaire. There are no additional conditions that either the European Commission or any other European institution set before BiH", Zvizdić said on the ceremony in December.
He emphasized that getting the Questionnaire is one of the most important dates in the BiH path to EU so far. Zvizdic also said that "answers will be prepared by BiH institutions at all levels, and then they will go through the Coordination Mechanism thus BiH with one voice could go to the European Commission". But now, almost six months after he said that, it seems that the Coordination Mechanism has failures and has began to creak. Governments on entities and cantonal levels are blaming each other that the other side is slowing the process, that answers are not ready and that there are some structures which don't want to see BiH in EU. Since the deadline is approaching, Ivanic didn't have any other solution than to gather all key players on the one meeting. But after the gathering was finished, nobody had the encouraging words for citizens.
After meeting, Ivanic didn't comment too much about this issue. He said that even though each part of the government prepared their part of the answers, nothing has been solved on the state level in that regard.
"There is no common reply from state level. The only way to resolve this situation is Coordination Mechanism", Ivanic said.
He added that BiH unnecessary lost a lot of time and that there was not enough communication between key players in this situation. Ivanic stated that the communication between them must be improved as soon as possible.
RS PM, Zeljka Cvijanovic, admitted after tthe meeting that RS institutions didn't submit the answers because "procedures are not clearly defined".
"We're talking about the fate of documents that are collected from different levels of government, or how they are directed towards the working group, which suppose to deal with them", said Cvijanovic, adding that this is a "key issue".
She added that the implementation of procedures related to the responses to the Questionnaire will be test of activation of Coordination Mechanism. Cvijanovic stressed that RS verified answers to the Questionnaire in January but that the attitude of the RS Government is to first secure the functionality of Coordination Mechanism and clearly establish procedures.
"We did not agree with certain attitudes and methodology of how this should be done", Cvijanovic said.
Federation BiH PM, Fadil Novalic, confirmed that this entity had much complicated job about answers because of cantonal structure. But he added that answers are almost done and that translation is in progress.
It is planned that Ivanic, at the end of June, visit NATO and EU but what he will bring in the bag, it is in this moment unknown. According to previous experience, his bag this time will again be empty. But, it is not unusual when BiH is the issue./IBNA