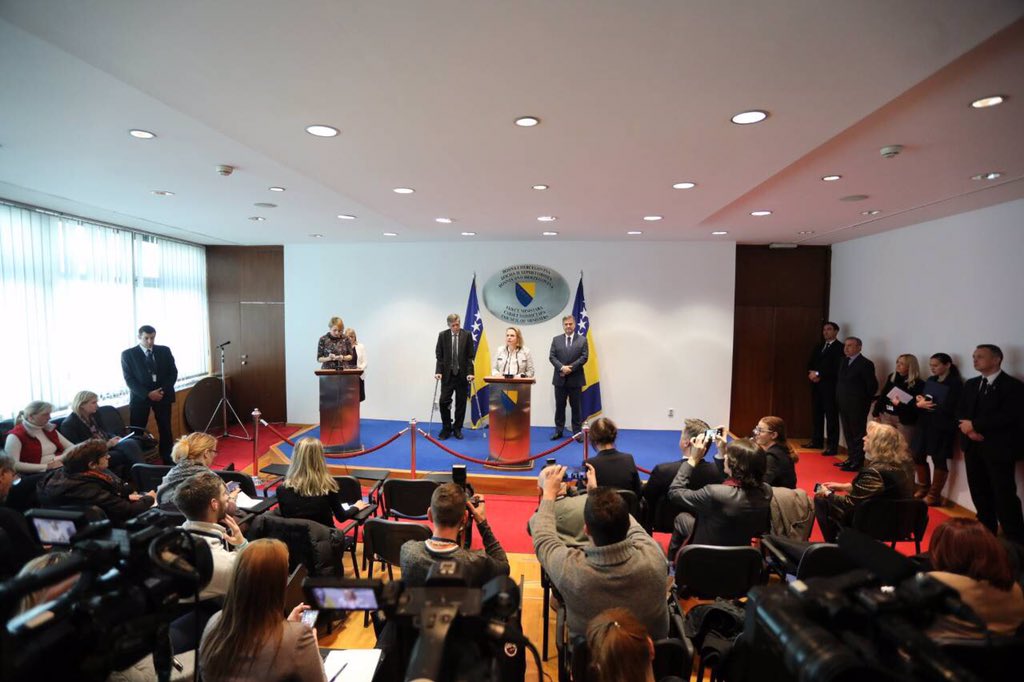 President of the Political and Security Committee of the EU Council, Sofie From-Emmesberger, met on Thursday in Sarajevo with the Chairman of the Council of Ministers of BiH, Denis Zvizdić and BiH ministers of Foreign Trade and Economic Relations, Justice and Security, MirkoŠarović, Josip Grubeša and Dragan Mektić.
The participants stated after the meeting that the main conclusion was that the next year is crucial for the European path of BiH, as the European Commission is preparing an opinion on this country candidate status for membership in the European Union. As they said, all aspects will be taken into account, including the establishment of governments after the general elections.
Numerous issues were discussed regarding the security challenges of BiH, as well as the Western Balkan countries, such as organized crime, terrorism, human trafficking and increased inflows of migrants. It was emphasized that BiH remains a reliable EU partner in addressing these challenges. Zvizdić confirmed that participants also discussed the issue of the judiciary, the rule of law, media freedom, the implementation of election results and the government establishment at all levels. He warned that European security institutions often talk about the security challenges that affect BiH, but without the presence of the BiH delegation. Zvizdić said that officials often give inaccurate and unconfirmed data, especially when it comes to terrorism, extremism or radicalism. He also stressed that BiH most important foreign policy goal remains EU membership, but, when it comes to internal issues, it must be focused on strengthening the country's economic potential and strengthening the rule of law.
From-Emmesberger said that the EU will continue to support Bosnia and Herzegovina in terms of migration, and the head of the EU Delegation to BiH, Lars-Gunnar Wigemark, reminded that so far 8,7 million Euros have been allocated due to increased migrants' inflows in order to strengthen the borders, but in a humanitarian sense.
The President of the Political and Security Council of the EU Council also underlined that the EU also helps the improvement of coordination within BiH to combat these challenges.
It is of the utmost importance that the countries of the Western Balkans ratify the borders and sign the border agreements, as this is one of the key criteria for European integration, but also because it is the best way to stabilize the entire region, she emphasized.
BiH and international officials also discussed the situation created by the Kosovo introduction of 100 % customs duties on BiH and Serbia products, that violated the principles of the CEFTA Agreement. The media asked whether the European institutions would eventually take any more concrete measures in this regard, but there was no answer.
This is the first time after four years that representatives of all 28 EU member states are present in BiH, which is another indication that BiH, as well as the Western Balkan countries, remain in the focus of European Union's interest./IBNA