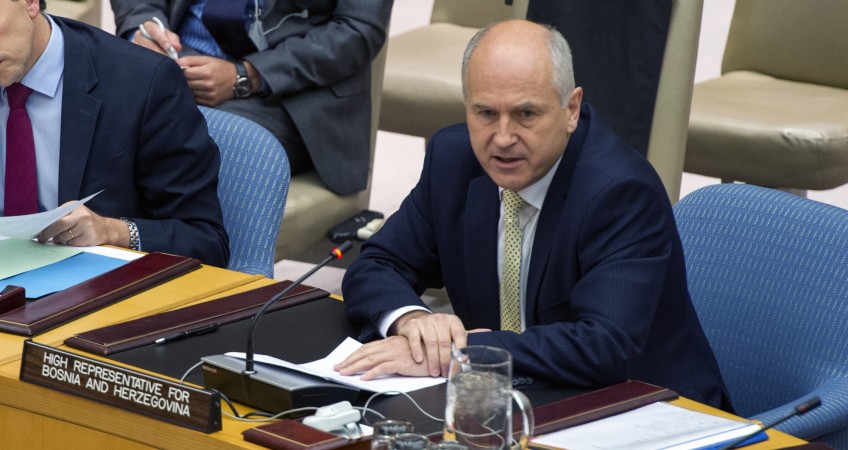 International community High Representative to BiH, Valentin Inzko, during the regular session of UN Security Council today, will submit his Report on the situation in BiH.
As usual, local politicians accepted the contents of the Report in various manners. Inzko criticized all of them but, again, the biggest criticism was aimed at Serb member of BiH Presidency, Milorad Dodik. Inzko said that he is "particularly concerned by relations among the political leaders in Bosnia and Herzegovina, which are increasingly antagonistic and unproductive. Among other issues, there are continued threats of secession, blockages at the State and Federation levels and too much inflexibility on certain positions, none of which contributes to moving the country forward or improving the lives of its citizens".
"Highly divergent positions also impede the country's ability to effectively cope with the security and humanitarian aspects of the increasing inflow of refugees and migrants who enter the country attempting to transit to the European Union. While the Federation in general hosts the largest number of refugees and migrants, the Republika Srpska continues to refuse the establishment of reception centres on its territory and has also actively transported individuals they identify as refugees or migrants to the inter-entity boundary line. The State-level authorities seek the means to return those who have arrived irregularly while still continuing to uphold their obligations under international and national law", Inzko points out.
As a particular problem, he emphasized the fact that the results of the general elections held in October 2018 have still not been fully implemented. A new Federation Government, Inzko said in Report, has not been appointed for more than two years, and the Federation Government from the previous mandate is still sitting, along with the previous Federation President and Vice-Presidents; the same is true for governments in the Herzegovina-Neretva Canton and Canton 10. In addition, the Federation President continues to block the appointment of judges to fill the vacancies on the Federation Constitutional Court.
Inzko also states that "the Republika Srpska Government continues to deny my office access to official information and documents as required under article IX of the General Framework Agreement for Peace and Annex 10 to the Agreement, which obliges all authorities in Bosnia and Herzegovina to fully cooperate with the High Representative. Repeated calls by the Steering Board of the Peace Implementation Council, reminding the authorities of the Republika Srpska of their obligations in this regard, have so far had no impact".
"The SNSD-led Republika Srpska authorities have persistently called for rollbacks in previous reforms and a restoration of the so-called 'original Dayton', while intensifying its rhetoric against the North Atlantic Treaty Organization and the European Union and threatening to block reforms and other accession-related activities necessary for Bosnia and Herzegovina to move forward on its Euro-Atlantic path", Inzko stresses.
I the report, Serb member of the BiH Presidency and leader of biggest Serb party, Alliance of the Independent Social Democrats (SNSD), Milorad Dodik, was mentioned 26 times, among other parts, in the context of bad relations in the Presidency; challenges to the sovereignty and territorial integrity, competences and institutions of Bosnia and Herzegovina; rhetoric on war crimes, glorification of war criminals. On the other hand, Croatian Democratic Union leader, Dragan Čović, was mentioned five times and leader of the Party of the Democratic Action, (Bosniak) Bakir Izetbegović six times./ibna