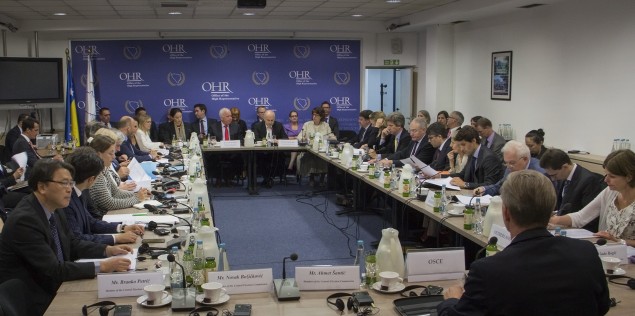 After long 12 years of service as a Head of the Office of High Representative (OHR) in Bosnia and Herzegovina, Austrian politician Valentin Inzko resigned, opening the roo for appointment of his successor, German politician Christian Schmidt.
The development, in this case, was expected but still sudden because the appointment was still not supposed to happen for at least several weeks. In the last few months, media speculated that Inzko will finish his mission in BiH and that Schmidt will take office, but not before Summer. However, Peace Implementation Council Steering Board held the meeting on Thursday to officially make this change.
"The Ambassadors of the Steering Board of the Peace Implementation Council (PIC SB) formally appointed Christian Schmidt as the next High Representative in Bosnia and Herzegovina, following his candidature put forward by Germany," the Office of the High Representative announced Thursday afternoon.
"The PIC SB looks forward to working with Mr Schmidt when he takes up his duties as the High Representative on August 1, 2021, upon which Mr Valentin Inzko's resignation will become effective," the statement said.
The PIC SB thanked Germany for its initiative and is confident that Mr Schmidt will accelerate the completion of the 5+2 agenda and contribute to the stability in BiH by ensuring consistent implementation of the civilian aspects of the Dayton Peace Agreement, which ended the war in Bosnia and Herzegovina 1992-1995.
The PIC SB also noted that this decision further underlines their commitment to the territorial integrity of BiH.
The OHR will now inform the United Nations Secretary-General of the PIC SB's decision.
"The PIC SB expressed its appreciation to Ambassador Valentin Inzko for his longstanding extraordinary commitment and tremendous contribution to the implementation of the Dayton Peace Agreement and security and stability in BiH for the past 12 years.
The statement added that the Russian Federation did not agree with this decision. Earlier, the Russian ambassador to BiH, Igor Kalabuhov, said to the media that Russia is against new appointments to the position of High Representative and that OHR should be closed. He stated that Inzko decided not to use "Bon Powers" which give the High Representative the power to amend the existing and impose new laws. Also, as Kalabuhov stated, Inzko just observed what was happening without any action.
According to former High Representative, Christian Schwartz Schilling, that could be changed and Schmit will use them.
"He will certainly use the Bonn powers, but in amending the laws if they are bad. [He will use them] in terms of lifting the blockade. If one tries to legally regulate the situation with the Srebrenica genocide so that it is not glorified, so that war criminals are not glorified so that verdicts are not debated, such situations require the use of the Bonn powers," the former High Representative told N1.