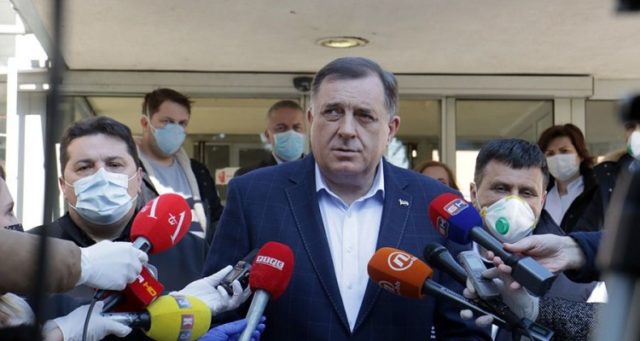 How strong the desire of BiH politicians to remain in power is, can be illustrated by the example of the Serb member of the BiH Presidency, Milorad Dodik, who has made a U-turn in his views in just a few days.
Less than three weeks ago, Dodik in all public appearances, as he had done before, mentioned that he considered Bosnia and Herzegovina, in which he is a member of the highest political tripartite body, an "impossible state" in which the Serbian people were captives. As usual, he mentioned the secession of Republika Srpska from Bosnia and Herzegovina and its independence, as well as the eventual merging with Serbia.
After the first aid contingents from Russia and China arrived in the RS, Dodik began to praise the "fraternal ties" with these countries, but did not mention the assistance coming from the European Union. The EU did not appear to be sending aid to the RS at all, which proved to be incorrect. While at the airport in Mahovljani, near Banja Luka, he received planes with Russian and Chinese aid, even those planes that brought medical supplies purchased with Republika Srpska taxpayers' money, it remained unclear why he refused to do the same when EU assistance arrived.
The animosity towards the EU went so far as to say in an interview that "if he could, he would never buy anything from the EU again".
Then, all of a sudden, he made a complete U-turn!
A man who was known as a separatist said in a recent interview that "there is no secession in Republika Srpska's agenda. When it is discussed, it is only talked about in some possible, perhaps even distant future, if BiH is not successful in the realization of the concept of agreement and respect for our (RS) views".
He added that "everyone in BiH" must agree on some issues, which is in complete contrast to the rhetoric so far that "RS does not have ask BiH if it will secede because the people will express their desire in a referendum".
An even more interesting explanation is his views towards the EU. Dodik now says his statements were, in fact, related to the fact that the EU banned the export of medical equipment to the Western Balkan countries. However, he acknowledges that the EU has provided significant assistance in the fight against COVID-19. Receiving part of the assistance from the EU on Sunday in Banja Luka, Dodik said that "RS is looking towards the European Union and that support is not only related to aid in medical equipment but also in money".
"We know that the EU has approved a significant package of assistance to BiH, and part of it will end up in RS. It is an aid to an economy whose recovery will be much more challenging than jobs related to the medical sector", Dodik stressed.
He added that "the EU has not forgotten Republika Srpska and this will strengthen our belief in the need for European integration and solidarity. Although we sometimes think that the EU does not help, we are now witnessing that help is coming and people in the RS should be grateful", Dodik said.
The question is whether the change in Dodik's views is the result of admitting that he was wrong, which is unlikely, or of the kind of pressure he has been under for years because of his views and statements. Obviously, someone told him that this time he was exaggerating in his hard-line views./ibna