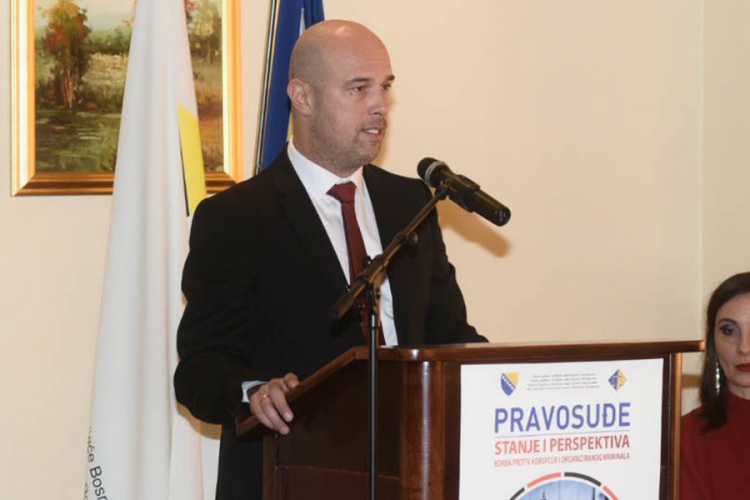 The Head of the High Judicial and Prosecutorial Council (HJPC) is once again the epicentre of attention, this time on a matter related to employment in the judiciary.
A few days ago, Istraga.ba released an audio recording allegedly featuring Tegeltija discussing the possibility of naming the sister of a former member of the HJCP to the post of judge in the Banja Luka Basic Court. Although Tegeltija claimed he did not push for the judge's recruitment, the scandal tainted the credibility of the HJCP, Tegeltija and judiciary system in BiH.
"The latest affair involving the top BiH judicial official in the alleged influence peddling casts a shadow over him as head of the institution and reflects negatively on the country's judiciary as a whole," the EU Delegation to BiH said to media.
The EU Delegation said that this case represents a crisis in the High Judicial and Prosecutorial Council and deepens the public's distrust in the judiciary. "This week's "Pravo na pravdu" (Right to Justice) debate dedicated to the rule of law in Bosnia reaffirmed the citizens' request for the judiciary to adhere to the highest integrity standards. All judicial office-holders must remain completely impartial. The European Union in Bosnia and Herzegovina urges the members of the High Judicial and Prosecutorial Council (HJPC) to address this crisis immediately and proceed with urgent and adequate steps," the Delegation underlines.
The Office of the High Representative continued by stating that the reputation of the BiH judiciary has currently reached its abyss and has suffered yet another strong blow following the surfacing of this recording.
It seems that after this and the so-called 'horseshoeing' affair (in which Tegeltija allegedly received bribes), it is difficult -almost impossible to restore the integrity of the HJPC president. Conversations like the one heard on the recording demoralize and demotivate the entire judiciary, which embodies the foundation of every state and society. They question the credibility of institutions and the work of all honest and dedicated professionals in BiH judicial institutions at all levels, including those members of the HJPC who want to work in this institution," said OHR spokesman Mario Brkić.
He stressed that, in order to restore the integrity of this prominent judicial function, Tegeltija should showcase professional and personal honesty and do what is expected from him after continuously failing to rise to the occasion in relation to performing his duties. According to Brkić, that would also help improve the image of the HJPC, which was further damaged by these activities.
"The HJPC deserves a different, professional president," the OHR said.
Tegeltija's behavior was also pointed out by numerous non-governmental organizations that deal with the transparency of the work of public servants. Now it's Milan Tegeltija's turn to make a move. /ibna