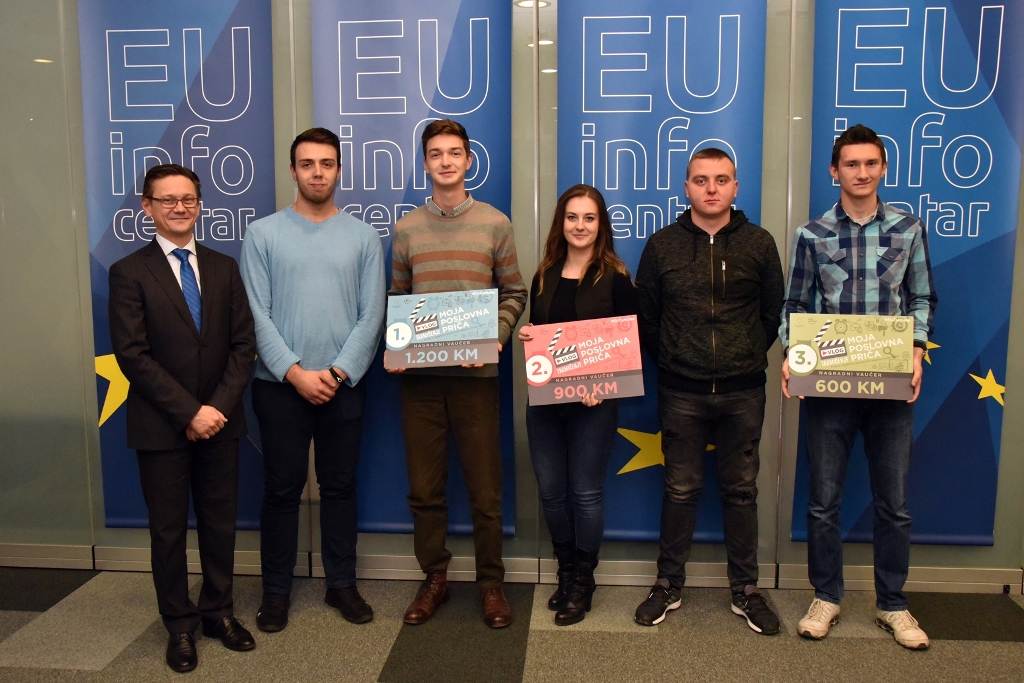 In order to present the positive and successful ideas of young innovators and entrepreneurs across Bosnia and Herzegovina, the EU Info Centre launched a Vlog competition "Tell us a story of a successful young BiH entrepreneur". The creative and innovative potential of young people through entrepreneurship is one of the key ways of achieving the smart, sustainable and inclusive growth of any society.
The aim of the competition was to highlight human potential and bring new perspectives and various visions to the key questions of understanding how young people navigate in the labour market, how creative and successful their business ideas have been, and how they can inspire future generations.
During the award ceremony, Richard Masa, Head of Cooperation of the Delegation of the European Union to Bosnia and Herzegovina, handed out the awards to the winners and thanked all of the competition's participants.
"These successful and inspiring stories are not a surprise to me as this country has remarkable young people who work hard and are pushing boundaries. It is important to provide them with opportunities and encourage them to research, create and promote their ideas. It is also important that their stories are heard and shared, in order to inspire and encourage more young people in BiH to pursue their ideas and realise their goals – this is what this competition was all about", Masa said.
As it was announced in the press release from EU Delegation to BiH, the winners of the competition now have the opportunity to select IT equipment in the amounts of 1,200 BAM for first place, 900 BAM for second place, and 600 BAM for third place. A team of young innovators from Tuzla – Makerspace – received the first place award for their innovation of an SOS bracelet called Trace Brace.
"We will use this award to continue developing our ideas and products. We plan to buy a laptop for one team member – the only one who does not have a laptop – so we can continue working and competing. There are many opportunities for youth, and they need to try to find themselves in any number of industries. The youth are full of energy and they are the ones who should make changes and create a better world – the future belongs to us", said Tarik Džambić, who received the award on behalf of Makerspace Tuzla.
The second place award went to Nađa Zubčević, a young scientist from Sarajevo who created an antibacterial toilet seat – LooSeat – and plans to start a crowdfunding campaign in the summer.
"If everyone were like Armin" is the title of the third place awarded vlog, submitted by Mirza Hadžić, which tells the story of a 20-year old self-employed mechanic, Armin, from Goražde./IBNA