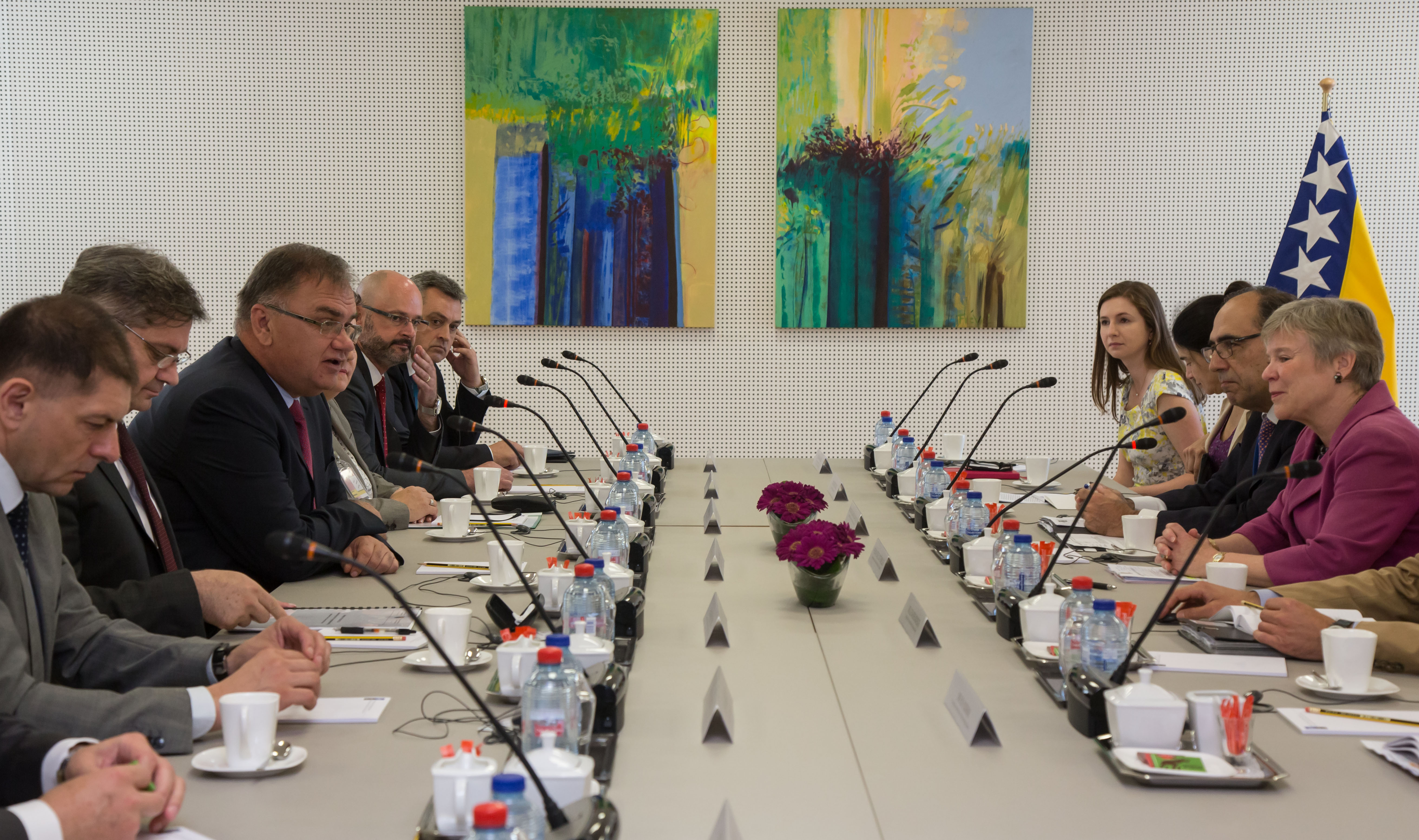 BiH delegation is attending the NATO North Atlantic Council in Brussels and head of Delegation, BiH Presidency Chairman, Mladen Ivanic, expressed his hope that BiH at the beginning of next year will activate the Membership Action Plan (MAP) and that BiH enter into a new phase of relations with NATO.
Ivanić said that still there was no word about BiH membership in NATO, because that is an issue that there is no consensus in BiH.
"This will be an issue for some other generation of politicians in the future, because this is not good time for a membership", Ivanić told reporters.
He added that BiH achievements were presented during the meeting, and members of the Council were briefed on progress on the Defense Review, the plan for modernizing funds, as soon as the military property was registered. But, Ivanic added that the main political message was desire to reconsideration of the strictly condition of  posting military assets. He explained that, even if BiH meet the other conditions, it would take at least a few more years.
According to him, the main argument was that BiH needed the activation of the MAP, because there is a political agreement between the authorities and the opposition, as well as all the constituent nations in BiH.
"This is one of the few things that BiH has in common, I hope that we managed to break down a little bit of the reservations a number of countries have towards this. I hope that this condition will again be considered after this visit", Ivanic said.
Republic of Srpska ruling coalition is the main opposition for an entrance of the state in NATO and, for years now, demand that citizens on referendum decide about this issue. The main reason is that Serbs don't want to set a NATO border toward Serbia, but an additional reason is that NATO forces bombed Serbs during the war in BiH. For the same reason, as the ally in the war who helped them a lot, Federation BiH is in favour of entrance without borders and referendums, saying that NATO membership can support the permanent peace in the country.
RS President, Milorad Dodik, said to the media on Tuesday that not a single RS representative in joint BiH institutions, starting from the Serb member of the BiH Presidency, has a mandate to force BiH's path to NATO. He added that Ivanic knows RS positions and and that he believes that he will not deviate from them.
"Membership in NATO is voluntary. There is no a consensus in BiH on accession to this alliance and this position is probably known to NATO leaders. There is a consensus by all political parties in RS, including the Alliance for Change, that we will not give our approval for BiH's integration with NATO, by which a border of that alliance would be set on the River Drina", Dodik said.
He also added that RS is opposed to the idea that political elites should make a decision on membership in NATO, stressing that this should be done by the people in a referendum.
"We are obliged to this by the fact that NATO not so long ago bombed our country and our people, and only the people can say whether we will go in the direction of NATO integration", emphasized the RS president.
Knowing this, Ivanic didn't have too many topics for discussion in Brussels. With MAP activation, military property which must be in state ownership and several smaller issues, BiH delegation and NATO officials discussed the participation of members of the BiH Armed Forces in peacekeeping missions, which was assessed as extremely good.
"Our units are, according to the assessments, one of the best when it comes to participating countries in peacekeeping missions, especially in Afghanistan, but also in other areas, for example, Africa. We confirmed that we are committed to doing so good job in the future", Ivanic pointed out./IBNA