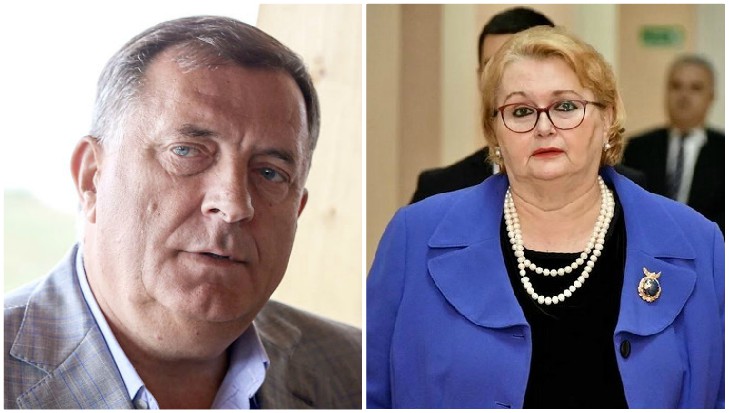 The Serb member of the BiH Presidency Milorad Dodik said today that the Minister of Foreign Affairs in the BiH Council of Ministers Bisera Turković was implementing the foreign policy of SDA and not BiH, referring to her plans to insert as many migrants in BiH as possible, which could be proven disastrous not only for the Serbs and Croats, but also for the Bosniaks.
Dodik alleges that Turković, by appointing Gordan Milinić as minister adviser in Beijing, "works like an unguided rocket for which you never know where it will drop and what it will do", pointing out that this shows there is a serious problem in the Ministry of Foreign Affairs in the Council of Ministers.
He reminded that Turković had been preventing him from diplomatic service for a long time as well as the Serb member of the Presidency and the Chairman of the Council of Ministers Zoran Tegeltija, which is unacceptable.
Dodik says that Turković, in addition to some of Tegeltija's letters, kept some of his letters to the world`s statesmen regarding what the Bosniak member of the Presidency wrote about Srebrenica, without authorization.
"What she has done now with this appointment is unacceptable, because Milinić has no support from the Serb people. He is a speculator, and all this shows that Turković did not give up on saving the SDS cadres", Dodik told reporters.
He said that he would react immediately in that direction, and that he has something to say to Turković.
"She does not care about anything in BiH, she broke BiH at the best, and very skillfully uses the legacy of the previous minister Igor Crnadak, who left that Ministry without Serb staff members in the six most important positions in that institution. She is an irresponsible person who does not implement the foreign policy of BiH, but of the SDA", Dodik reiterated.
He said that he would open the issue of Turković as a minister in the Presidency at the first opportunity and ask the SDA to correct itself in that area, because, as Dodik points out, she does nothing to stabilize relations in BiH, which are becoming more complicated because of her moves.
Dodik added that Turković, among other things, appointed her son to important diplomatic positions, which, as he points out, is a complete privatization of politics.
"If she continues like that, there will be nothing left from the common foreign policy in BiH", Dodik said. /ibna
Source: SRNA