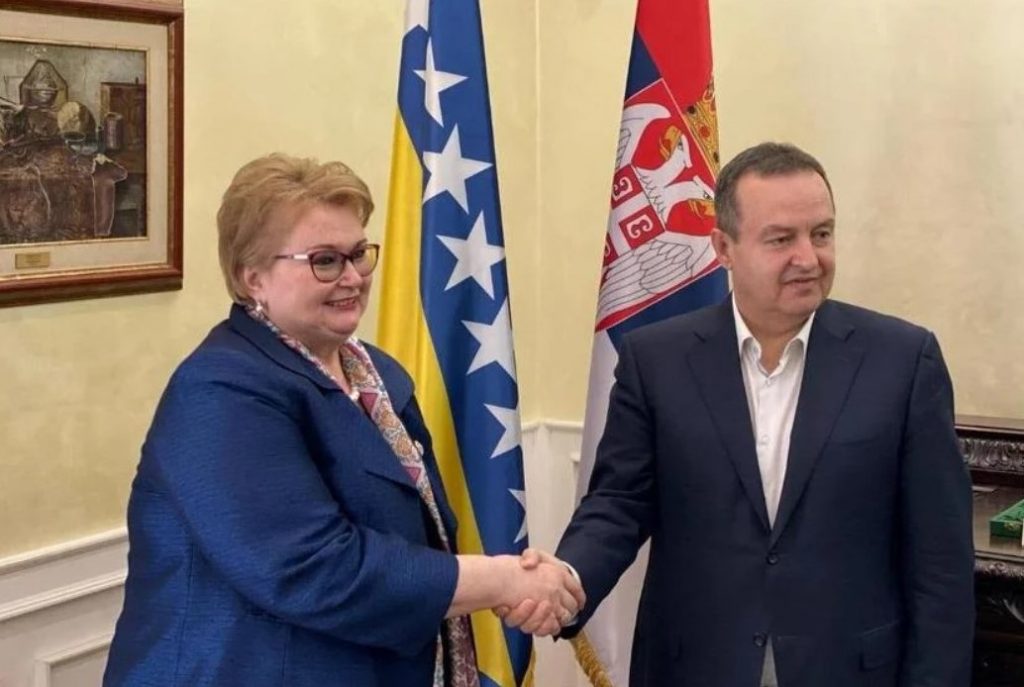 The Minister of Foreign Affairs of Bosnia and Herzegovina, Bisera Turković, met in Belgrade with her Serbian counterpart Ivica Dačić, to discuss the two countries' relations.
During her first official visit to the eastern neighbours, Turković said the representatives of the two countries should talk and that disagreements could only be resolved through dialogue.
"There is no reason not to do that. We have good neighbourly relations, we have had them until now and they should be developed. We need to continue with frequent meetings between governments and ministers, because that way we can resolve issues. It is important for BiH to open consulates in Novi Pazar, and there is reciprocity, because we agreed to open Serbian consulates in Banja Luka, Mostar and Drvar without any problems; there is no reason why it should not be done by Serbia as well", said Turković, adding that the process was in the technical phase.
As she said, they discussed border issues and the danger of migrants in the context of protecting the citizens of both countries. There are issues of damage and ethnic succession, said Turković.
"We would like to cultivate more shared attitudes and cooperation. We are all confused because we do not know which documents to take, whether they will bring them back from the border – we do not need that because the region is small", said the Minister, alluding to the time of easing the measures due to the pandemic.
Ivica Dačić said that he hoped that the current mandates would be marked by the development of interstate relations.
"We believe that our communication during the pandemic was at a high level. We agreed to have regular meetings and annual visits in Belgrade or Sarajevo. We welcome the relaxation of the measures and the opening of the borders, and we thank BiH for making the decision to allow the entry of the citizens of Serbia", Dačić stressed.
He added that Serbia was particularly interested in stability in the entire region and sought good neighbourly relations.
"Economic relations are crucial and we are extremely satisfied with the growth of our exchange, which reaches almost two billion euros. BiH is one of the largest foreign trade partners of our country", said the Serbian Minister.
He added that there were open issues from the past, such as the issue of missing persons, the issue of the borderline, old foreign currency savings and similar matters. /ibna