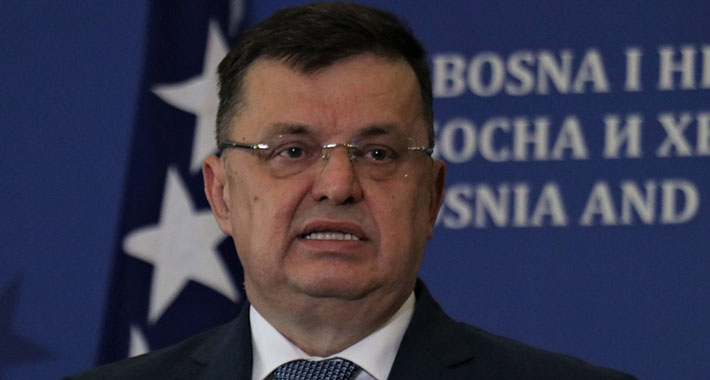 Bosnia and Herzegovina has paid the entire amount of money for the purchase of vaccines through the Covax initiative, with the first batch expected to arrive by the end of January.
BiH Council of Ministers Chairman Zoran Tegeltija said that vaccination would be free-of-charge for high-risk groups. Kicking off the session of the Parliamentary Assembly of Bosnia and Herzegovina at the House of Representatives, SDP MP Zukan Helez asked Tegeltija what this institution has done regarding the procurement of vaccines in BiH.
Tegeltija responded that the country, referring to both entities and the Brčko District, had paid $12,997,000 for 1,232,000 coronavirus vaccines and, through the BiH Ministry of Civil Affairs, the BiH Council of Ministers had allocated two million Convertible Mark (BAM) for the transportation, storage and delivery of the vaccines.
"The initial plan envisages the vaccination of 20 percent of the population. According to the information from January 6, the first batch will arrive by the end of January. These are the vaccines that are the most difficult to transport and store, but which are the first to be registered in the world and the use of which has been approved. The vaccination program was defined by the competent ministries of entities and the Brčko District. In parallel with this process, together with the EU, BiH has started the procurement through the EU vaccine procurement mechanism and we have agreed on about 892,000 doses of vaccines," said Tegeltija.
The Council of Ministers Chairman stressed that the meeting between the ministries in charge of the transportation, storage and delivery is ongoing and that the transport method has already been agreed on.
"Ministries have identified priority groups – health workers and support staff, citizens over the age of 65 with chronic diseases and workers in retirement homes. I am sure that BiH, together with its partners from the EU and the Covax scheme, will receive the vaccines on time. BiH has the necessary financial resources to procure the vaccines for citizens. The vaccines will be free for all priority groups," Tegeltija noted. /ibna