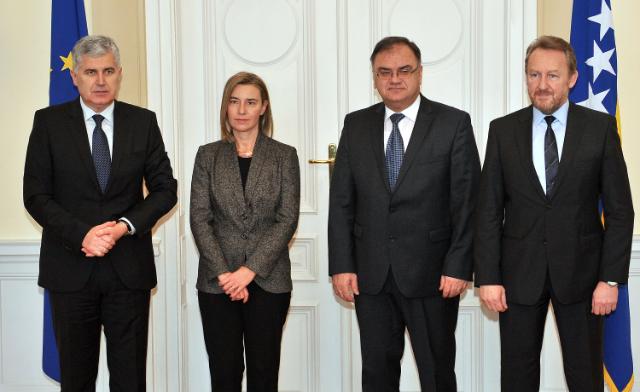 Sarajevo, June 1, 2015/ Independent Balkan News Agency
By Mladen Dragojlovic
After many years of suspension, the Stabilization and Association Agreement (SAA), between BiH and the EU, finally entered into force Monday, worming up the expectations and hopes of the majority of citizen that one day they will be part of the family of European countries.
As it was explained from the EU, the SAA establishes a close partnership between the EU and BiH and deepens the political, economic and trade ties between the two parties. From now on it will be the main framework for the relations between the EU and BiH, further preparing the country for future EU membership.
This important step for BiH was welcomed by highest EU and state officials. Federica Mogherini, EU High Representative for Foreign Affairs and Security Policy, said that this is a milestone of BiH path to EU.
"Political clarity, decisive action and a real, coordinated effort by institutions at all levels are now needed to develop and implement the reform agenda. Tangible results will be fundamental for the Council to consider a membership application in the future. An overwhelming majority of BiH citizens want their country to join the EU and the leadership of the country needs to redouble its engagement and meet citizens' expectations", Mogherini says in written statement.
Johannes Hahn, Commissioner for European Neighbourhood Policy and Enlargement Negotiations said in his statement that entry into force of the SAA as a defining moment in the relations between the EU and Bosnia and Herzegovina as well as an agreement, which firmly sets BiH on an EU-accession path
"At the same time, the SAA also brings new responsibilities stemming from its implementation and for BiH authorities to deliver upon", Hahn said.
Chairman of BiH Presidency, Mladen Ivanic, told the media that SAA will not cause spectacular changes, but it will create the  conditions for the integration of EU and BiH markets.
"SAA has partially been implemented but it never fully entered in force until now", Ivanic stressed.
However, economy analyst from Banja Luka, Zoran Pavlovic, told IBNA that not everything ideal in SAA implementation. He argues that BiH producers, who now face a large scale of problems, will continue to suffer the consequences on local market.
"The economic effect of SAA is ideal for big, developed countries, but for small nations like ours it can have cataclysmic result. The elimination of customs duties towards major markets means nullification of our own capacities because it becomes a market for products of big, foreign producers", Pavlovic says.
He added that a good side of the SAA is that BiH will be obliged to accord the majority of its laws and procedures which will result in a more stable and standardized system. As he said, the EU will not make concessions for BiH, because "those who want to play on the EU playground they must know and respect the rules".