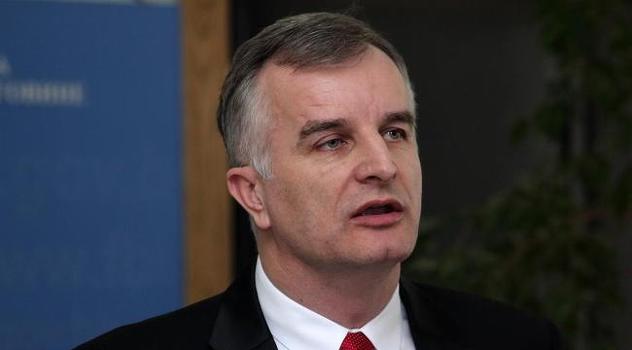 By Mladen Dragojlovic – Banja Luka
The Ministers of Trade, and Agriculture in BiH Federation government, Milorad Bahilj and Jerko Ivankovic Lijanovic (photo), were arrested in a police operation that took place at Wednesday morning on several locations in southern Bosnia and Herzegovina.
The police operation was ordered by BiH Prosecution office and was conducted by State investigation and protection agency (SIPA). Officers of BiH Indirect tax authority (ITA) were also involved in the investigation and action on the field.
Along with Bahilj and Jerko Ivankovic Lijanovic, SIPA arrested Slavo Ivankovic Lijanovic, Jozo Ivankovic-Lijanovic, Mladen Ivankovic-Lijanovic and founder of this family, which owned the meat industry, Lijan-Stipe Ivanković. Also, Jozo Sliškovic, Venka Ivankovic, Zeljko Mikulic, Zdravko Ivankovic, Drazenko Kvesic, Miroslav Colak, Mirjana Sakota and Mirko Galić were arrested as supporters of this family in tax and other frauds.
SIPA spokesperson, Kristina Jozic, said on press conference in Sarajevo that this group was  arrested on suspicion that they committed the criminal offense of organized crime in conjunction with tax evasion and money laundering, and in this way have gained them illegal profits in excess of 11.6 million BAM (about 5,8 million Euro).
The prosecutions office suspects that this group established more fictitious companies to avoid paying taxes and launder money in the companies "Lijanovic", "Kora fin" and "Velmos". All members of this group are members of the political party "Work for Progress", established by Ivankovic Lijanovic's family. Mladen Ivankovic Lijanovic is the president of this party.
BiH Federation Prime Minister, Nermin Niksic, said that the arrests will not jeopardise the functionality of the government.
"Everybody must take responsibility for their acts, regardless of their positions in state institutions", said Niksic to the media.
ITA BiH spokesman, Ratko Kovacevic, confirmed for IBNA that, for a long time now, they have been noticing that something is wrong with taxes in these companies. The first report on the matter they sent to BiH Prosecution office in 2011 and twice after that they sent additional reports.
"ITA BiH has been working on this case for several years and there is no link with the upcoming elections. The investigation, undertaken by Prosecution office, was also long and now they have enough evidences to indict this group, said Kovacevic.