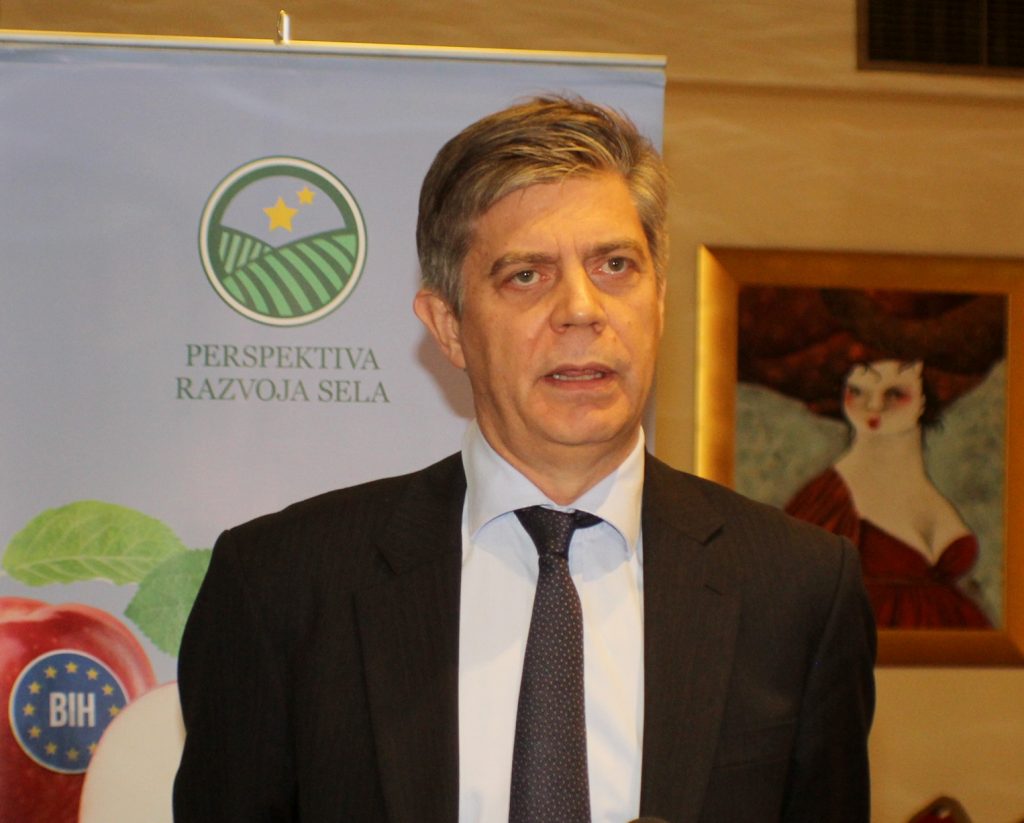 EU Special Representative in BiH, Lars Gunnar Wigemark, said on Friday in Banja Luka that purpose of forums, which EU holds in several BiH cities, is to hear from farmers what are their needs and to determine the kind of help which would be provided by EU countries.
Wigemark said that the altered Stabilization and Association Agreement between EU and BiH entered in the force and that EU lifted the suspension of the autonomous measures on the fruit and vegetables, which is consider as benefit for BiH producers who will have the chance to export this products in EU.
"The first step in order to get the EU support to the BiH agriculture, is to finally have the strategy for agriculture for entire country. I am hopeful that it will be happened in incoming months. Through our German colleagues we received the list of specific needs which institution of state agreed upon and we can work together with the authorities here to support farmers. Many EU countries, including my state Sweden, are interested to work together with your farmers", said Wigemark to the media before the forum with producers in agriculture.
He added that many farmers in RS are in very serious situation because there is shortage of funds, they don't receive subsidies which they are expecting and they legally supposed to receive it for many years. Also, Wigemark emphasized that farmers must be organized better than it is case now.
"They are not organized well. Farmers are fragmented and not working together. It is necessary in order to have strong voice which will be heard also in the terms of transition on the path towards EU membership", Wigemark said.
His main message to farmers is that EU want to work together with them because farming community in EU is one of most important communities. In EU, as he said, farmers are well organized.
Wigemark said that EU wants to see benefit for BiH farmers from the EU market and also from meeting the standards of EU. But, president of Farmers Association of RS, Vladimir Usorac, told to media that farmers are sceptic about announcements on help from EU countries. He emphasized that BiH state institution didn't do anything to protect farmers.
"Also, EU didn't fulfill the promises and farmers in BiH are left alone. We don't have instruments to improve the situation and our market is exposed to cheap Eu products. BiH market must accept the milk with large percent of water. The same situation is with fresh meat and other imported products", Usorac said.
He emphasized that EU farmers can expect a "bright future" but not to those in BiH. EU farmers, as Usorac said, receive support from their states and export their products in BiH under the real price. BiH farmers, on the other side, were told that the market of about 500 million consumer will be open for their products and, in fact, EU farmers have the new parket of 3 million consumers in BiH.
"I was on the meeting with German minister of agriculture when he told us that EBRD will record the damage which BiH farmers suffer because of changes in SAA. He also said that the damage would be reimbursed. Unfortunately, the bank did not make an estimation of damage, BiH authorities didn't do anything as well and then begun the talk about "technical support". If it will be technical support, why we must record the damage?", Usorac said.
He added that it is not fair that BiH farmers receive technical support from EU countries which are giving the financial support to their farmers and with that money will continue to suppresses BiH farmers and their production. Usorac said that in the last year more than 1000 dairy producers closed their farms and that nobody will stay on the farms to produce anything, and that is the effect of changes in SAA./IBNA