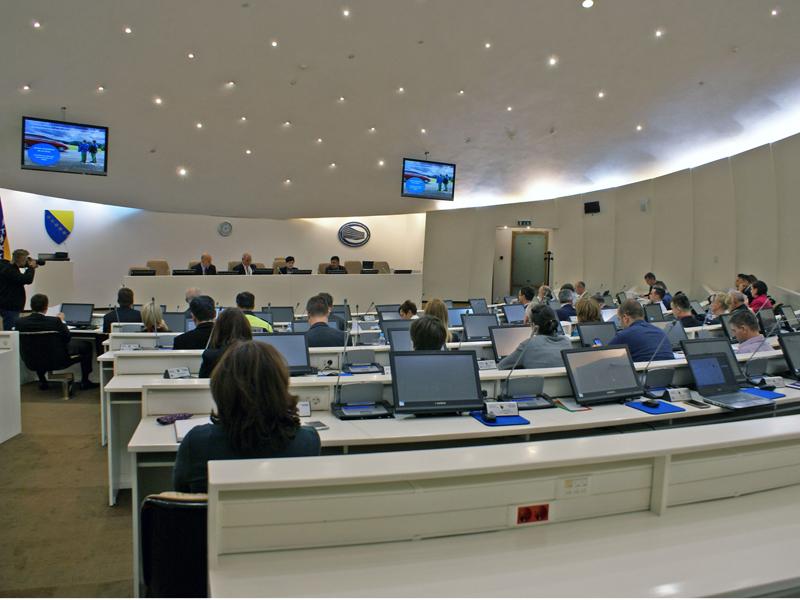 PMs of the House of Representatives of the BiH Parliamentary Assembly rejected on Wednesday, at the emergency session in Sarajevo, any discussion on the Bill on Excise Tax, which envisages an increase in excise duties on oil and oil products by 0,15 BAM (0,75 Euro), under urgent procedure.
This is one from the set of laws which are a basic condition demanded by International monetary fund to continue the arrangement for next tranche of the loan. The loan is necessary for budgets on all levels to continue the normal situation in the state financial sector.
The House of Representatives concludes that there is no emergency and that this set of laws can be discussed in regular procedure. Emergency procedure means that there is no space for amendments on the law, while in regular procedure it is possible. Parties gathered in coalition Alliance for changes were against emergency procedure because, as they earlier said, the law didn't predict the solution for farmers who would be most affected by the increasement of fuel price.
But, some analysts say that Alliance for changes, in this way, want to put RS Government in trouble since there is no other source of money for sustainable financial situation in entity budget. If the arrangement with the IMF fails, the RS Government will face a crisis because it will not be able to pay salaries for a large number of employees in the public sector. Another problem is that, in that case, the Government would not be able to fulfill the obligations to RS Railway employees, who already announced that they will organize a new strike and that, this time, many other trade unions will be included. So, Alliance of independent social democrats (SNSD) and its coalition partners need the loan to sustain the social peace in the entity.
RS PM, Zeljka Cvijanovic, told the media that the RS Government earlier clearly stated that it will pay all additional costs that farmers may have because of the additional excise.
"That is why we suggested that, in case this law is passed, the agriculture part of the entity budget will be increased from 60 to 70 million marks. This means that farmers would keep the "blue diesel", which would then be an item added to the existing agriculture budget of 60 million. It wouldn't be a part of it like it was before", Cvijanovic explained.
RS Minister of Finance, Zoran Tegeltija, said that it is possible that the decision of PMs in BiH Parliament means the end of IMF arrangement and Reform agenda. European Union Delegation in BiH follows the situation with this set of laws and its representatives will continue to do that in future voting and parliamentary procedure. EU Special Representative, Lars Gunnar Wigemark, said on Tuesday that the proposed increase in excise taxes is a necessary step for the Reform Agenda and on the country's EU path.
"Road construction and improved transportation links are essential for the future economic development of BiH. If this work is not undertaken, the IMF will lower its growth forecast for BiH and this, in turn, will require a revision of the IMF programme. As a result, a failure to adopt these measures will force a delay in the IMF review of its programme – planned for end April – and would necessitate a renegotiation of some aspects of the programme. This, in turn, could cause delays in other related programmes, including assistance from the European Union. It will also slow down the country's EU accession. Political leaders who set ambitious timelines for EU candidacy need to take responsibility to ensure that these measures are implemented", Wigemark warned.
The Reform Agenda, added the EU Special Representative in BiH, is an integrated package of measures, including the IMF programme, that needs to be implemented in full and any delays to one element will inevitably lead to delays in others. Wigemark added that political leaders say they share of a common goal of moving forward on the EU path and with the Reform Agenda.
"To achieve this common objective, they now need to put aside their political differences", Wigemark stressed./IBNA