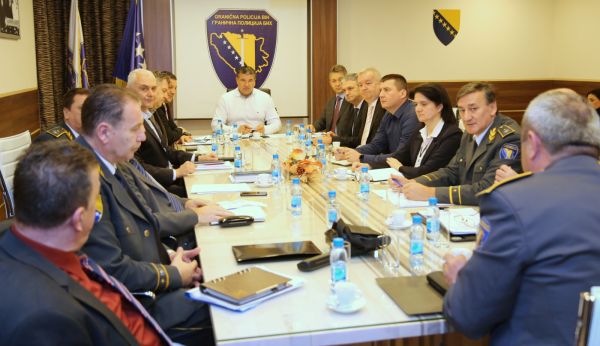 BiH Border Police Director, Zoran Galić, said on Wednesday that the state could expect a new wave of migrants in spring, but that they lack the material-technical instruments to cover all locations where illegal crossovers are possible.
Galić pointed out that data from the European Union Border Protection Agency (Frontex), the International Organization for Migration (IOM) and the Europol report, indicate that illegal migration in the Western Balkans will intensify again after the winter, which would put BiH back in the problem with increased migration pressure.
He stated that since September last year there has been a trend of decreasing the number of illegal border crossings in comparison with the previous period, but that this is a seasonal occurrence.
The BiH Border Police, Galić added, currently employs 2,228 officers, of whom 2,028 are police officers. According to the estimation of the Border Police, 100 official vehicles, 132 binoculars, 66 IC devices, 66 thermal imaging units are missing to cover all locations where illegal border crossings are possible in the area of ​​responsibility of units Bijeljina, Zvornik, Višegrad, Hum-Foča and Trebinje.
Galić held a meeting of the BiH Border Police Expert Board focused at the state of play in the area of border security and future activities. Among other things, it was stated that, despite the efforts and use of all available human and material-technical capacities of this police agency, additional strengthening of BP BiH in border control and surveillance of the state border in the eastern and north-eastern parts of the country is necessary.
In this regard, Galić once again emphasized that maximum engagement of existing human, technical and material capacities should be carried out in order to suppress illegal migration, i.e. to prevent illegal entry into BiH from the direction of the Republic of Serbia and Montenegro, as well as to prevent all forms of cross-border crime along the entire BiH state border.
For a more concrete response to the problem of illegal migration, he stressed that amendments to the Law on Border Control, the Law on Aliens, the Law on Asylum and other regulations would be needed, in order to give more powers to police officers and increase the possibilities of redeployment and engagement of officers at the border with Serbia and Montenegro.
It was emphasized at the meeting that all members of BP BiH are expected to have maximum engagement in the protection of the state border, to be professional, to respect the laws, to fight consistently against corruption and to be more present on the ground. More consistent monitoring of the work of police officers is also expected, as well as a timely exchange of information at all levels./ibna