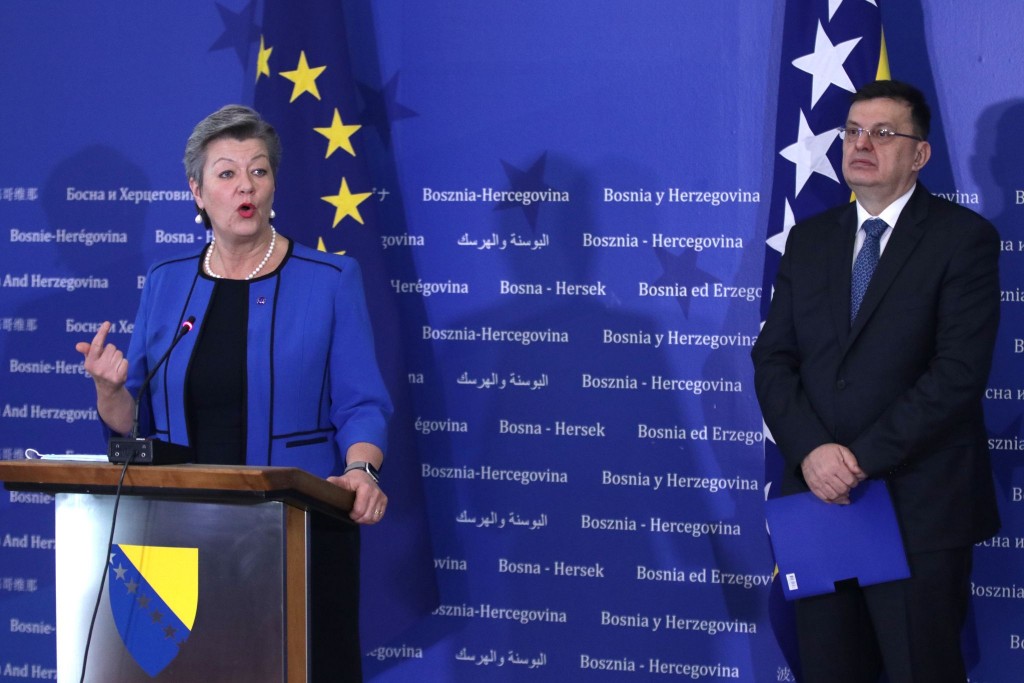 European Commissioner for Home Affairs Ylva Johansson said the European Union wants to be a reliable partner to Bosnia and Herzegovina in all aspects including the migrant crisis, underscoring that the country needs to show it is capable of controlling these processes.
"Managing the migrant populations is the responsibility of the countries themselves, and BiH too has to act that way; the entire country needs to take its share of the burden," Johansson said in Sarajevo on Friday after meeting with Chairman of the BiH Council of Ministers Zoran Tegeltija and his deputies.
The majority of illegal migrants in the country are clustered around Sarajevo and the Bihać area on the West of the country near the Croatian border, as other parts of the country refuse to accept them. Moreover, authorities in the Republika Srpska entity are constantly pushing back migrants to Federation BiH territory.
Johansson is on a two-day visit to BiH to personally take a close-up look at the problems related to illegal migration in the country, saying that the EU can help control the migrant crisis.
On Thursday, Johansson visited the Una-Sana Canton where the majority of an estimated 8 000 migrants currently reside. She spoke with local authorities and visited the makeshift Lipa migrant camp, about 20 kilometres outside Bihać.
In a statement to the press on Friday, Johansson said that she held open talks with Prime Minister Tegeltija and that her basic message was that they can count on the EU as a reliable partner in the current situation.
She recalled that she recently presented herself the new EU migration and asylum pact that treats migrants as a permanent issue that will not disappear, and thus needs to be addressed in such way.
One of the conditions of the pact is that migrants not eligible for humanitarian protection should be returned from the external EU border to their countries of origin.
The same rule should apply to BiH, which would automatically facilitate the control of illegal migrants in the country.
Tegeltija said that, considering the size of his country and its population, BiH has been struggling with the excessive burden of the migrant crisis for years.
He claimed that BiH cannot control its borders against the migrant wave on its own and there needs to be a joint effort by all countries by accelerating the process of readmission.
"BiH is prepared to be a partner in controlling migration, but it cannot be a hostage to the migrant crisis nor is it prepared to be a hotel for migrants who enter the country and then are being blocked from leaving it," said Tegeltija. /ibna