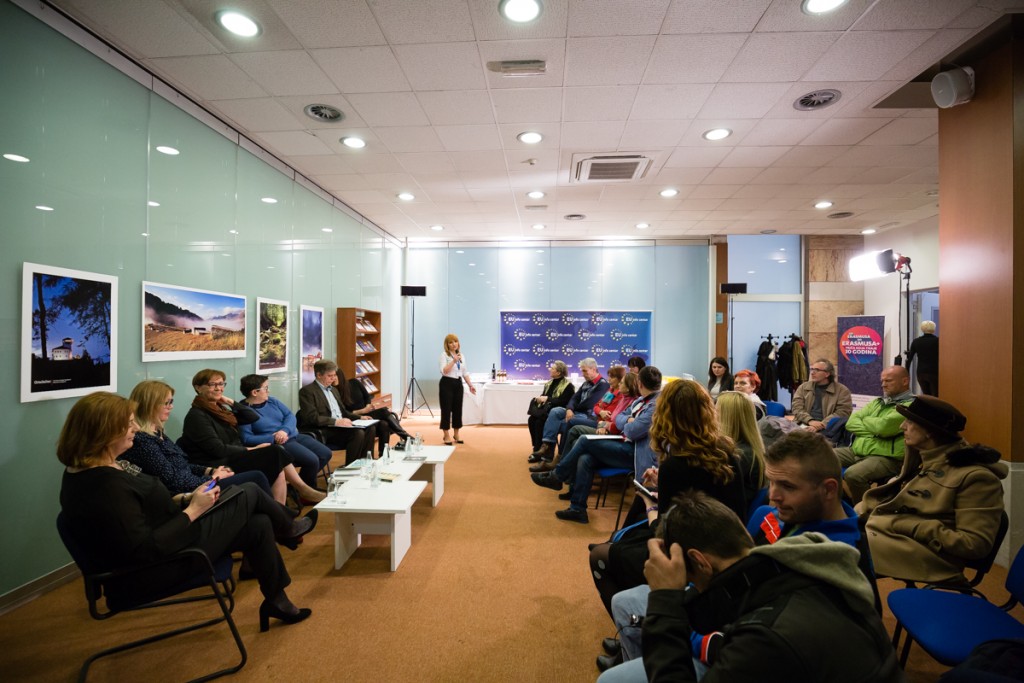 Wishing to properly mark April 23 as the World Book and Copyright Day, the EU Info Center in BiH hosted three prominent female authors on the topic of literary mapping of women in BiH and the region titled "Uknjižene".
UNESCO declared the World Book and Copyright Day at its General Conference in 1995 in Paris, which is marked annually on 23rd April. The Day celebrates the world literary achievements with the support of numerous publishers, book stores, teachers and communication experts.
Devoted to female authorship, the literary evening was opened with the extracts of works of the authors Ferida Durakovic and Lejla Kalamujic from BiH and Maja Rucevic from Croatia, in the interpretation of the actor Sanin Milavic. The event was also attended by Head of EU Delegation to BiH and EU Special Representative in BiH, Lars Gunnar Wigemark, who said that women play an important role in society
"Therefore, it is particularly important to encourage the creative work of women writers, poets and cultural workers in general", Wigemark said.
Speaking about the European Union's commitment to supporting culture, Wigemark reminded of the European Union's programme "Creative Europe", which also funds the European Union Prize for Literature.
"It is worth to mention that a prominent author from Banja Luka, Tanja Stupar-Trifunovic, was awarded the prize for her novel last year", Wigemark said, also reflecting on the recent poetry evening in the EU Info Centre as one of his most rewarding experiences in BiH.
On this occasion, Wigemark read a short quotation saying: "As a woman I have no country. As a woman, my country is the whole world" by Virginia Wolf, dedicated to the role of women writers in the reconciliation process.
As EU Info Center BiH said in press release on this event, Maja Rucevic, a writer who recently published the novel "Je Suis Jednoruki" (engl. I am one-handed) underlined the lack of female writers in the benchmark lists.
"In Le Monde's selection of the best one hundred books of the 20th century, only 12 works belong to female authors. It would be nice to use occasions like these as an inspiration to include more titles written by female authors in future lists", Rucevic said.
With her story collection "Zovite me Esteban" (engl. Call me Esteban), Lejla Kalamujic won the literary scene in the country and in the region.
"I am very pleased to see that the number of female writers has increased in the last 10 years, actively contributing to the literary life in BiH and the region. Their work has always been an inspiration for me", emphasized Kalamujic.
A multi-award winning poet, a short story author, a columnist and children's book writer, Ferida Durakovic expressed her satisfaction that the event represented an opportunity to approach the springtime regardless of everyday obstacles.
"I am glad that at least, through literature and culture in general, we can feel the spring approaching us, regardless of politics, nations, commitments, wealth or poverty. We should all bear in mind that politics creates borders between people and countries, while literature knows no borders", Durakovic concluded./IBNA