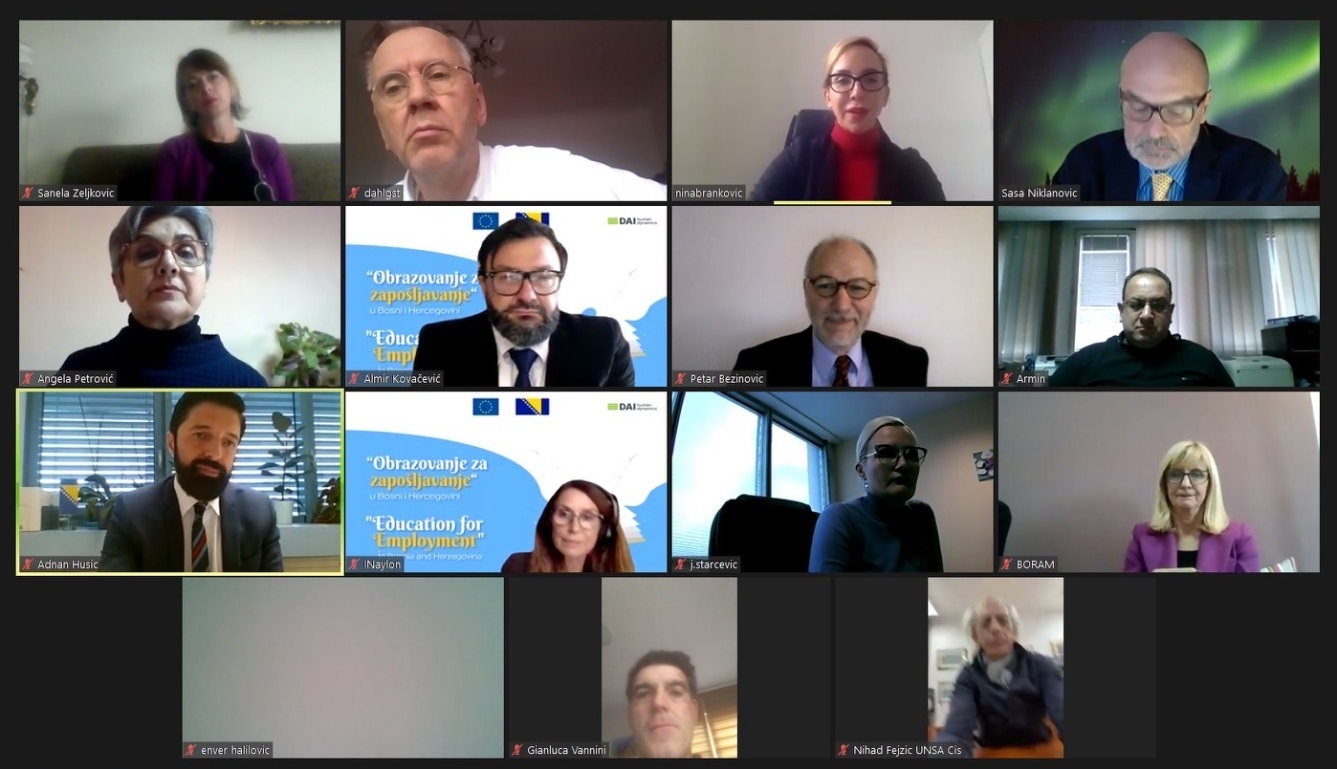 In the past 15 years, educational reforms have been implemented in Bosnia and Herzegovina with a focus on strengthening higher and general education, vocational education, and adult education. However, several surveys, as well as the latest report of the European Commission, point to a large disparity between the knowledge and skills of jobseekers coming out of the education system and the needs of the labour market.
Within the project "Education for Employment" launched on Wednesday, the European Union provides €2.6 million to assist BiH authorities in improving the capacity and structure for planning the educational process and the quality of educational outcomes. The project will address the existing shortcomings, given the mismatch of the education and training systems with the needs of the labour market, through the development of modern lifelong career guidance services, as well as better higher education and vocational education and training.
To facilitate the transition from education to the workplace, career guidance policies need to be improved. According to the experience of European countries, an appropriate career guidance policy can influence the planning of enrolment policy and reduce the unemployment rate. Some of the Western Balkan countries have joined the European Network for Lifelong Career Planning, which BiH plans to do.
The increasingly varying needs and expectations of teaching staff have led to the diversification of teacher training needs, thus the project will further improve human resources in the education sector, which will include teacher training and capacity building for education staff. The project will also help develop new study programmes and curricula for teacher training colleges based on learning outcomes.
"Today's meeting, among other things, signals the official commencement of the implementation of the project that will last for 30 months, for which the European Union has allocated €2.6 million in order to improve the quality of education in BiH and its approximation to EU standards in terms of harmonisation of human resources – education with the needs of the labor market. I would like to remind that the project ToR, the implementation of which we are starting today, was approved by all educational authorities in BiH, and its implementation should take place through 4 Components, as follows: Component 1: Transition from education to work; Component 2: Quality Assurance in Higher Education; Component 3: Reform of initial teacher education; Component 4: Human Resources Development in the Education Sector", said Adnan Husić, Assistant to the Minister of Education of the Ministry of Civil Affairs of BiH.
In order to strengthen the link between education and employers, an assessment will be carried out to allow a long-term forecast of future labour market needs. Based on this assessment, the project will include training of relevant staff members in both sectors to enable regular assessment and forecasting, as well as the development and proposal of different models of cooperation between vocational education and training institutions, higher education institutions and employers, keeping in mind the best practices in the European Union and in the region.
"On behalf of the European Union I am glad to kick off this project which will address very relevant areas of education in BiH, in particular the reform of teacher training and the development of a model for monitoring the progress of reform processes, based on external assessments of the education systems through international student tests such as the PISA, the PIRLS, and the TIMMS. When the PISA results of the BiH students were published earlier this year, it was found that there is substantial work to be done in order to elevate these results to the level of EU average", said Gianluca Vannini, Head of the Operations Section for Social Development, Civil Society and Cross-Border Cooperation of the EU. /ibna