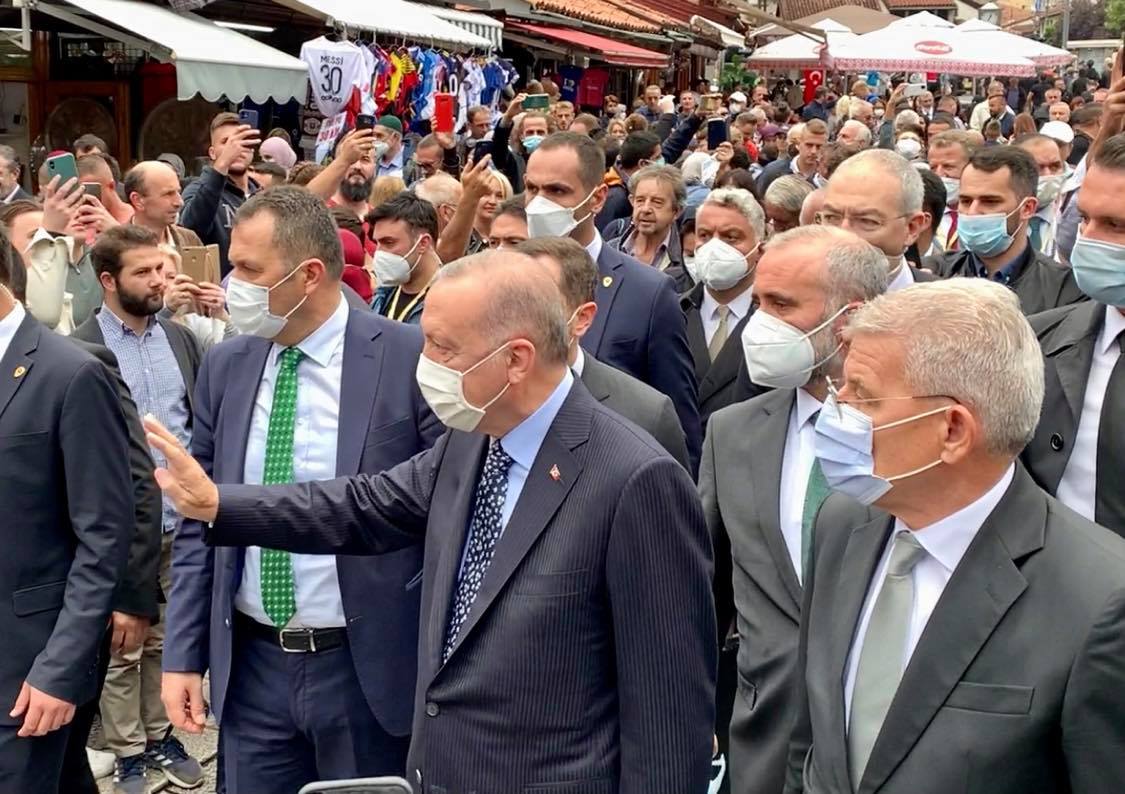 Turkish President Recep Tayyip Erdogan arrived in Sarajevo on Friday morning to attend the wedding of Jasmina Izetbegović, Bakir Izetbegović's daughter. According to the protocol, Erdogan will meet with members of the BiH Presidency in the afternoon.
Immediately upon his arrival in Sarajevo, Erdogan went to the cemetery in the Kovači settlement to visit the grave of Alija Izetbegović, a former member of the BiH Presidency and leader of the Bosniak SDA party. The plan of the visit foresaw that the main prayer, the Jumu'ah prayer, would be performed in the renovated Baščaršija mosque in the city centre. Immediately after the prayer, Erdogan officially opened the mosque, which was reconstructed with Turkish funds.
Erdogan expressed satisfaction that he had the opportunity to open the mosque because they are "a symbol of the unity of Muslims".
"Those who build mosques and rebuild them, truly love Allah. Since the time of the Prophet Muhammad, they have been centres of knowledge of the imams and culture," Erdogan said.
Reisu-l-ulema of the Islamic Religious Community in BiH Husein ef. Kavazović said that he was opening a restored mosque with his brothers and friends, Erdogan and BiH Presidency member Šefik Džaferović.
"It is one of the symbols of Sarajevo. I thank the people of Turkey for rebuilding the mosques that were destroyed during the war in BiH. They are part of our common past and future. We want to build a prosperous BiH with our neighbours and members of other faiths. Ugly words that we hear today will not shake us, every hatred brings the most damage to the hater himself," Kavazović concluded.
The Turkish president attended the sharia wedding of Jasmina Izetbegović as a witness. The wedding took place in the Bey's mosque (Begova džamija) and the ceremony was led by reis Kavazović. Erdogan and Alija Izetbegović were great friends and that friendship continued with Alija's son Bakir.
The announcement of the Serb member of the Presidency of BiH, Milorad Dodik, to attend the meeting of the members of the Presidency with the Turkish President caused the most controversy regarding the arrival of Erdogan in Sarajevo. Due to the decision of the former High Representative in BiH Valentin Inzko to impose the provisions of the law which made genocide denial punishable, Dodik himself demanded that the RS National Assembly declare a moratorium on the participation of Serb representatives in the work of joint institutions. However, as he claims, he received the support of all parties, including the opposition, for the meeting with Erdogan.
The meeting will be held in the late afternoon and a press conference should be held in the early evening. Erdogan is scheduled to visit Montenegro tomorrow.