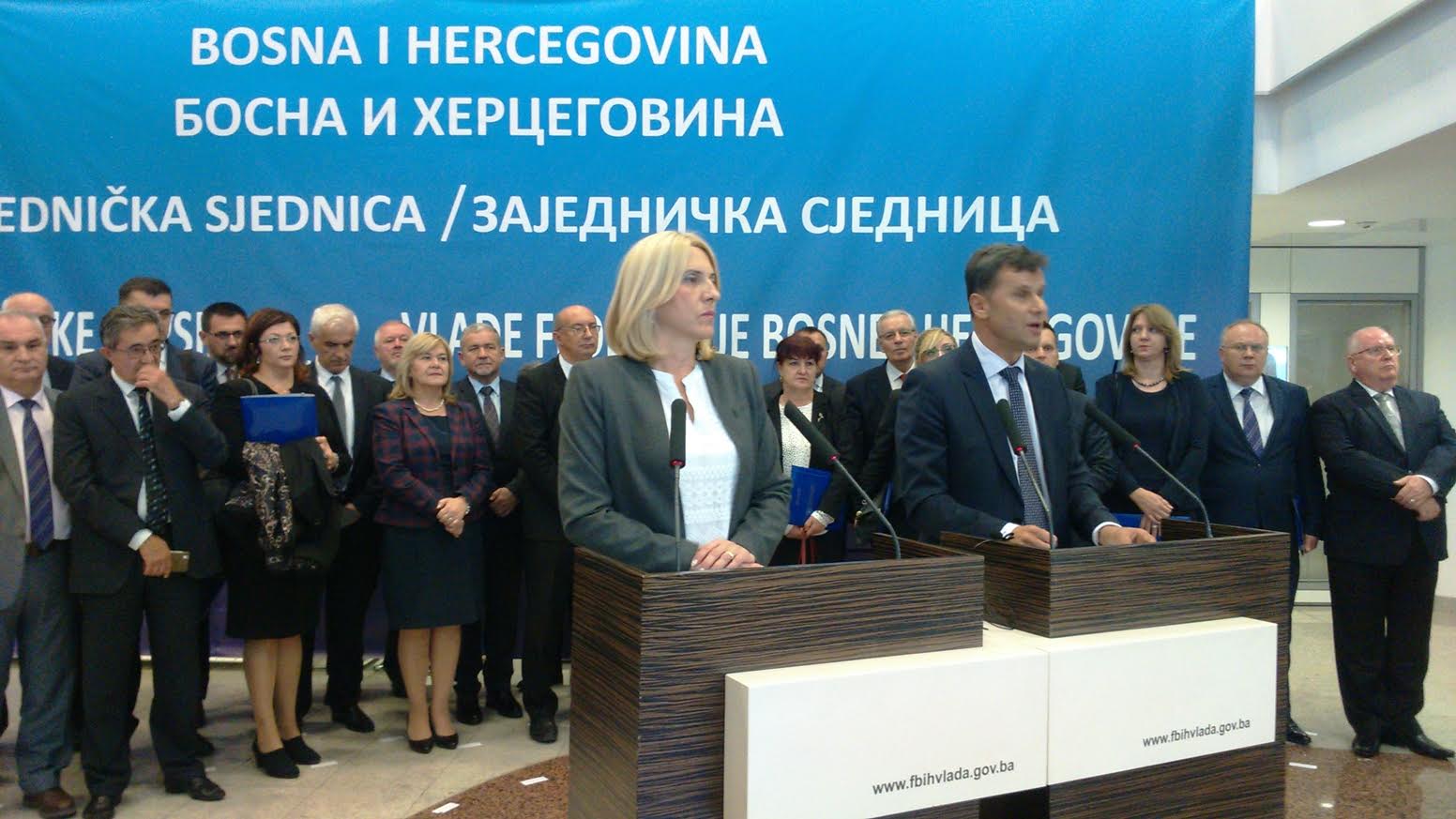 The governments of Republic of Srpska and the Federation of Bosnia and Herzegovina held a common session on Wednesday, in Sarajevo but they avoided discussing an increase of excise duties on fuels. The matter is of utmost importance and calls for a loan tranche from the International Monetary Fund (IMF).
However, since the relevant hike has been postponed several times in 2017, the IMF "answered" by delaying the release of the second tranche which is part of the country's current three-year funding deal with it.
During their session they discussed a joint action plan to combat the "grey economy" making clear that this time deadlines are sharply defined.
Zeljka Cvijanovic, Republic of Srpska's premier said at the presser that the debated action plan is all about a comprehensive document with clear deadlines and specific bearers of activity, also adding that there are meaures on the cooperation between the two parties involved. Some of these measures imply sending a joint initiative to the BiH Council of Ministers, so that they too, can contribute to the common effort to combat "grey economy".
"There were several measures on the agenda that we discussed earlier, and the reason we discussed them during defining the Reform Agenda was because they would not be something unknown to us", added Cvijanovic.
She stressed that certain results were summarized and the conclusion was that there was a small improvement in the plans' implementation.
RS's PM mentioned that these improvements are manifested in a number of examples, including increased funds that entitties' governments get in their budgets.
At the meeting, protection of the local economy was also discussed, especially the one linked to the wood industry, so that the latter continues to provide them with enough raw materials for their jobs and production activities.
Moreover, the RS Government adopted a six-month rule, which includes a ban on logging, something the government of FBiH had announced it agreed on.
At the press conference, Cvijanovic stressed how worried she is due to politicians inability to keep to agreed procedures, saying that it is unacceptable to receive sudden suggestions.  As a matter of fact she defended the view that everyone should behave responsibly and that the views of the entities' prime ministers must be respected, underlining she would no longer comment on excise duties because it is all about state-level commitment.
The answer came from her counterpart, BiH PM, Fadil Novalic who said that citizens needed excise duties on fuel and that is why the topic was discussed on state level.
According to the FBiH Government, excise and money will be redirected to construction and reparation of roads and highways.
Military assets were not left out of the debate with the two parts agreeing on their importance for the entities' development…/IBNA