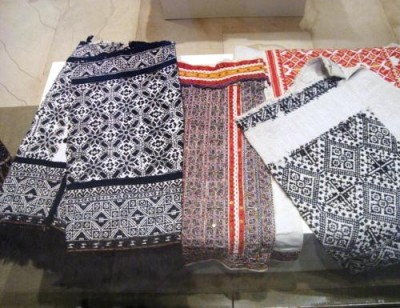 Banja Luka, December 1, 2014/ Independent Balkan News Agency
By Mladen Dragojlovic
Specific embroidery from village of Zmijanje, near Banja Luka, is the first item from BiH to be included on the UNESCO list of world intangible heritage.
A few days ago this news was confirmed on the session of UNESCO commission for protection of world intangible heritage and, with this decision "zmijanje embroidery" becomes a part of world culture. It is unique because women from the area of Zmijanje save the making of this art for several centuries. BiH have many kinds of embroidery, made with various colors, but this is unique because it is in just one of them – dark blue.
The history of this handwork is very interesting. In 1936 on the exhibition of national costumes in Paris the dress decorated with zmijanje embroidery was awarded as the most beautiful. Ethnologists compared this handwork and concluded that its origin comes from neolithic art. The lack of colours didn't stop women from Zmijanje to make various decorations, and now it is confirmed to be unique in the world.
"This is big step for BiH. All decisions on the candidature of zmijanje embroidery we coordinated with the Ministry of culture in Federation BiH and state Ministry of civil affairs. It confirms that cooperation in BiH is possible said Irena Soldat Vujanovic, deputy minister of culture in RS Government, on Monday during a press conference.
The preparations for candidature lasted for two years, from 2011 to 2013, and the documents were so convincing that UNESCO decided to accept it. In this way, BiH contributed in world culture and all involved in this are proud of the fact. The manager of RS Museum, Nada Puvacic, and custos in the same institution, Vladimir Djukanovic, said that this path wasn't easy but it was successful.
Since it was founded, the Humanitarian Association of Women "Duga" ("Rainbow") from Banja Luka recognised the big cultural value of zmijanje embroidery and make efforts to keep this tradition alive. Members of this Association have regular meetings where they bring their newest works, comparing them and proudly selecting them for exhibitions. But, many inhabitants are leaving the area of Zmijanje and now it is almost empty. Some of them are coming from Banja Luka just over a weekend and every year there is smaller number of pupils. That is why keepers of tradition, like "Duga" Association, are important for BiH cultural life.