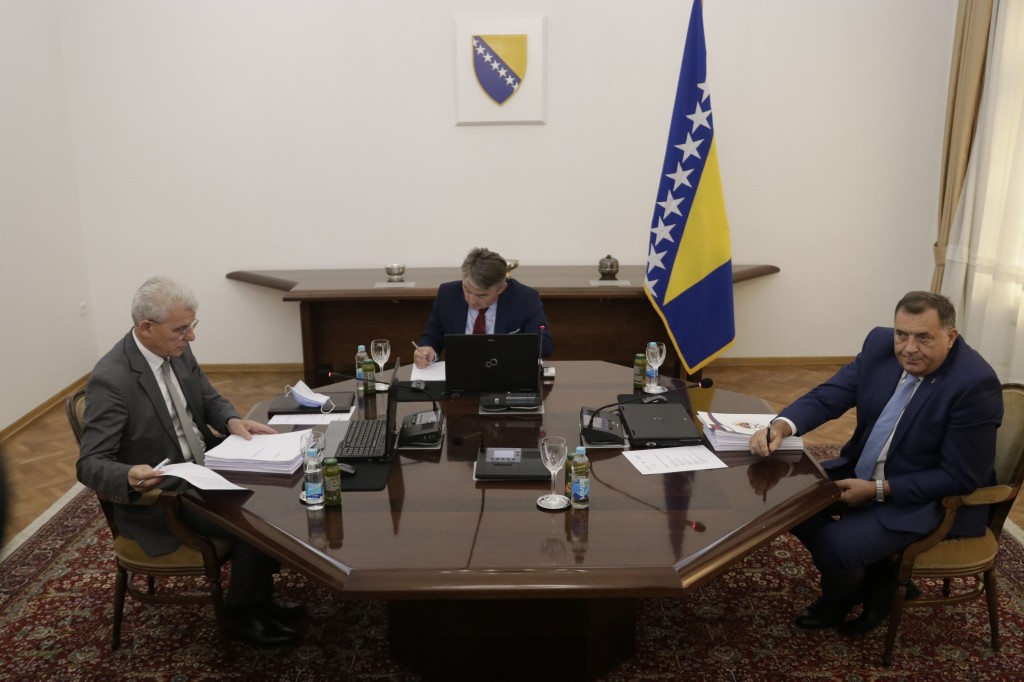 The Serb member of the Presidency of Bosnia and Herzegovina, Milorad Dodik, came to today's session in Sarajevo, but only to block the adoption of all proposed decisions.
Dodik was consistently "against", so the opening of the Russian consulate in Banja Luka, which was one of the points at the session of the Presidency of BiH, also failed. Of course, Dodik's behaviour irritated the other two members, Šefik Džaferović and Chairman Željko Komšić.
"Only two pieces of information were adopted where no consensus is needed and where a decision can be made by a majority vote. This is an obvious blockade of the BiH Presidency institution. We have not completed the process of appointing the ambassadors did not give agreements to ambassadors appointed by other countries in BiH. This means that the competence of the Presidency of BiH is endangered," Džaferović told reporters after the meeting.
As he said, he expects the international community to take certain actions, above all the High Representative in BiH Christian Schmidt, to resolve this situation, and for BiH to function normally. Džaferović believes that the international community should also consider the dismissal of Milorad Dodik if he continues to block the work of the Presidency.
At a press conference in East Sarajevo, Dodik said that participation in the work was not a blockade, as Šefik Džaferović claims, and that his behaviour was in line with the conclusions of the National Assembly of Republika Srpska and was possible in this way as he did.
"In the National Assembly of Srpska, they said that there will be no decision-making until the dialogue, which we constantly propose to put all open issues in BiH on the agenda, is completed and before we agree and resolve the issues of the imposed law (on punishing genocide denial) which we consider unsustainable and that was repealed in the territory of Republika Srpska", stated Dodik.
He noted that RS is seriously preparing to carry out such an order operationally.
"If the situation remains like this and there is no agreement on how to resolve the issue of the imposed law, disregard for institutions in Republika Srpska and resolve the issue of the fictitious High Representative in BiH, we will remain in this capacity, which means that all will go to the National Assembly session to determine on those issues," Dodik said.