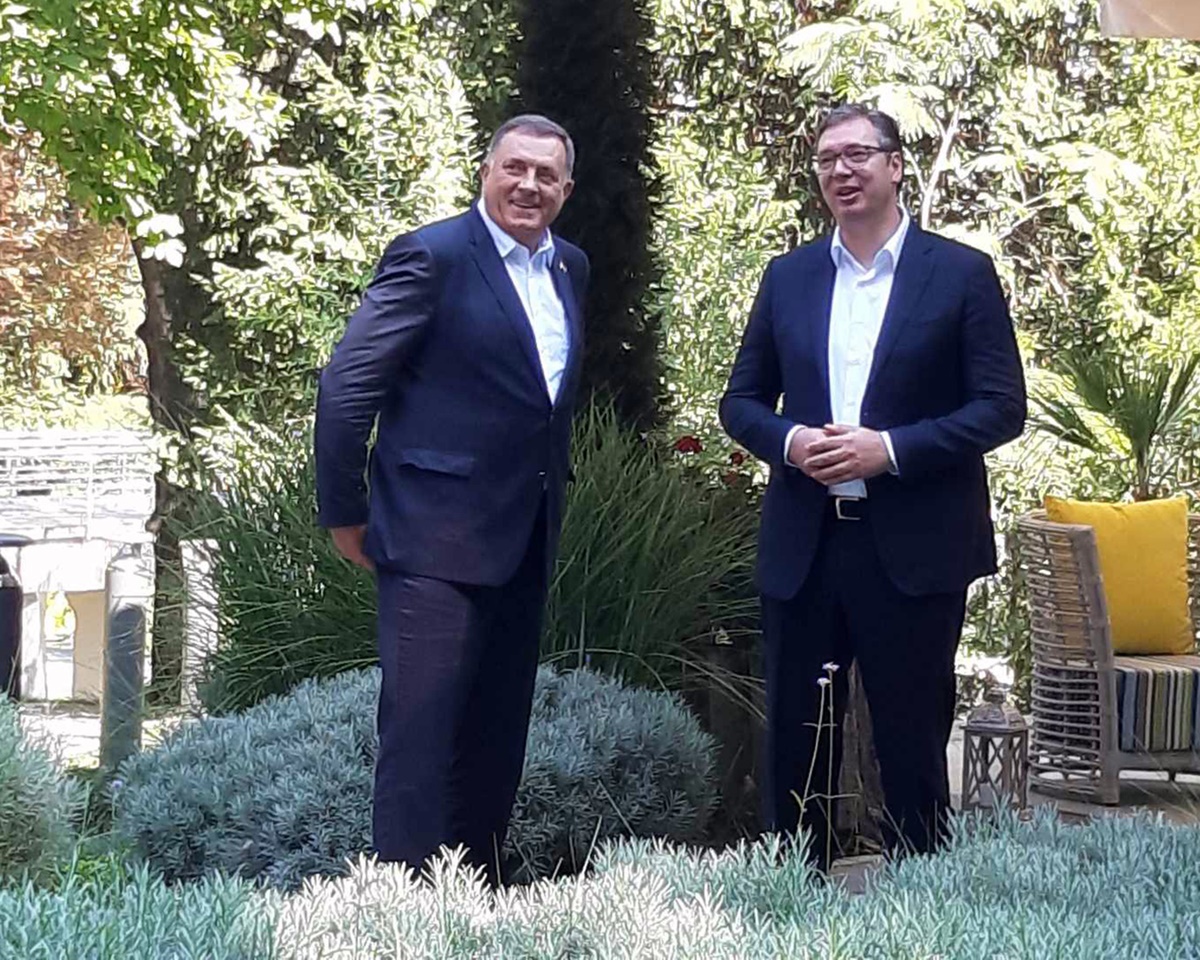 Serbian member of the Presidency of BiH Milorad Dodik said that at today's meeting in Belgrade he informed Serbian President Aleksandar Vučić about the plan of the Party of Democratic Action to abolish Republika Srpska (RS) and remove Serbia as a guarantor of the Dayton Agreement, and that he expected Serbia to protect RS from war threats from Sarajevo.
After the meeting, he told reporters that he wanted to clearly emphasize that RS expects Serbia's support and that he is fully convinced that that support will not be lacking in every respect.
Dodik further stated that he informed Vučić about the fact that RS views every occurrence of denial of Republika Srpska or attack on Serbia from Sarajevo as part of an organized plan promoted through the SDA declaration, which says that there is no Republika Srpska, and thus no Serbian people in BiH.
He stated that the plan implies the abolition of RS and a showdown with the Serbian people, because a significant number of people, as they reckon in Sarajevo, would have to leave RS.
According to Dodik, the very fact that SDA leader Bakir Izetbegovic asked for the reactivation of the genocide lawsuit against Serbia to be reactivated two days ago is part of the effort to "keep Serbia aside."
"Because, it is known that they talk to each other and have plans, they have a secret security commission within their SDA that deals with these issues. They reckon that, if this cannot be done by political means, they would not give up on armed acts to solve that problem", Dodik said.
That is why, he says, one can often hear that war threats always come from Sarajevo, regardless of all the calls of Serbs for peace and political solution to the problem.
"Most often, we have calls for some alleged patriots, for whom I do not know who they are or what they are, not to allow and if necessary to defend some of their political views with the war. Certainly, we cannot ignore that," Dodik stressed.
He went on saying he wanted to convey to Vučić that no one can undertake any legitimate military operation in BiH, because if they want to engage the Armed Forces, they must get approval from the Presidency.
"But while I am sitting there, such decisions will never be made. On the other hand, if you want the police to intervene from the Federation of BiH in Srpska, then you have a problem with the Dayton agreement that says police forces from one entity cannot move to another, without the consent of that entity. Which means it would be pure aggression and nothing could be done," Dodik said.
"The goal of everything we are doing is to preserve the Dayton Agreement in its original form, but they have been preventing us from doing so all this time, even from a significant part of the international community," Dodik added.
He says he will not stop talking about the fact that it is unacceptable that the almost identical problem that exists in Kosovo and Metohija and BiH, which concerns internal relations, can be solved in different ways, regardless of the fact that US Deputy Assistant Secretary of State Matthew Palmer said that the position of the USA is that they cannot be connected.
"I said, 'OK, maybe that's your position, and our position is that it should be connected, because you can't explain to us why it has to be a different solution for almost identical situations. In what form do you think we should support it?'" said Dodik./ibna