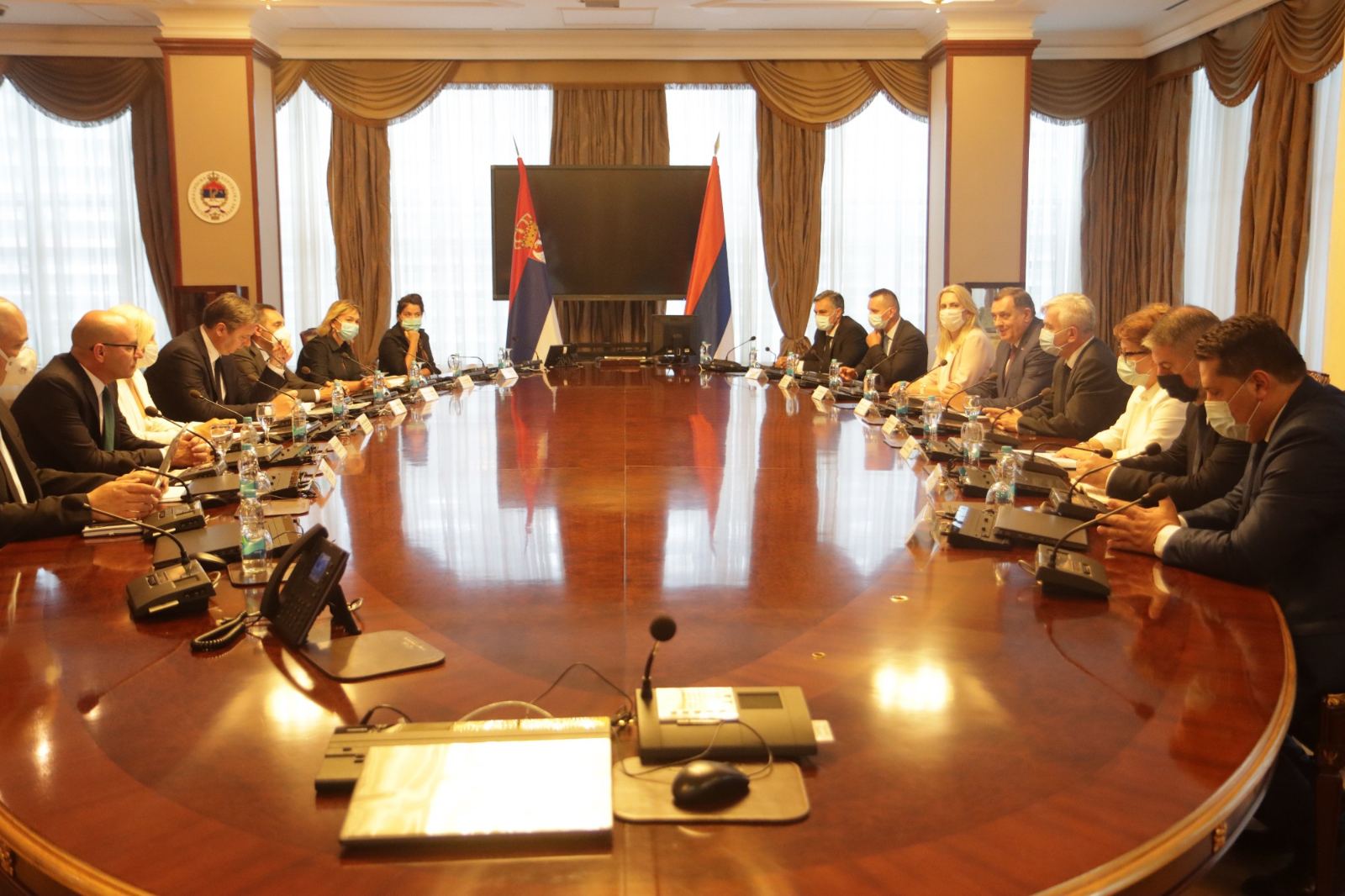 On Thursday, Serbian President Aleksandar Vučić traveled to Banja Luka, capital of BiH entity Republika Srpska, on his first visit since he assumed the presidential office. As a good guest, he brought a variety of worthy presents: 540,000 euros was deposited on the account of the Srpska Government for schools and health centres in Mrkonjić Grad and Šipovo today, while the funds for the Petrovac Spiritual Centre, to be constructed jointly with Republika Srpska, will also be disbursed today. Additionally, Serbia sent 10,000 test kits to Republika Srpska last night. Moreover, Vučić delivered the 15 medical emergency vehicles for less developed municipalities in RS.
The list goes on – Vučić promised the construction of the small airport in the Hercegovina region, near the city of Trebinje, and the construction of a part of the motorway that in the future will connect Banja Luka with Belgrade.
A lot of statements were made during his visit in Banja Luka, that included several points. Vučić stated that Republika Srpska could count on the help of Serbia in every aspect, adding that Serbia is the "motherland of all Serbs". However, he also stated that "Serbia guarantees the implementation of the Dayton Peace Agreement with its signature, and that signature is a guarantee for the RS", and that "Serbia is not a threat for BiH".
"We support the territorial integrity of BiH, but no one can deprive us of the right to support the RS and its survival and help our people there", Vučić stated, and specified that Serbia has allocated 59.2m euros to that BiH entity in the past three years and funded projects in 48 local communities in the RS, as well as in those local communities in the FBiH where the Serb population is a majority, alongside the Brčko District.
He also stated that he wanted channels of communication to be open with Bosniak and Croat officials in Bosnia and Herzegovina as well, not just with the Serbs, noting that the most important thing for all nations was to preserve peace.
"I do not have any kind of problem and I want our contacts to be as frequent as possible, and I sometimes talk to different government officials in BiH", Vučić told reporters in Banja Luka, recalling the meeting he had with HDZ and SDA leaders Dragan Čović and Bakir Izetbegović respectively.
Contrary to Vučić's "support of the territorial integrity of BiH", his host, the Serb member of the BiH Presidency Milorad Dodik, had different ideas. He linked the fate of Bosnia and Herzegovina with the results of the Serbia – Kosovo negotiations!
Dodik said that he and the RS representatives had pointed out to Vučić that "it should be made clear that it is impossible to talk about a possible secession of Kosovo without talking about the status of the RS".
"Kosovo and Metohija should remain an integral part of Serbia, as provided by Resolution 1244, but if the world insists on negotiations on the southern Serbian province, it should be made clear to everyone then that Republika Srpska has the same rights. If Kosovo remains in Serbia, then Republika Srpska remains in Dayton BiH", Dodik stressed.
After Dodik wrapped up his speech, Vučić was asked to comment on these ideas, though he refrained from giving any specific responses.
As it was expected, this statement by Dodik overshadowed all other aspects of the visit. Reactions from Sarajevo, mostly from Bosniak politicians, were bitter, basically conveying the message to Dodik that the RS must stay in BiH "or it will not exist at all".
Separatist ideas are not new in Dodik's rhetoric, but this time it feels like he could have chosen a more appropriate place and time to express them. Through his statement asking Vučić to link the question of the RS separatism with Kosovo, he could severely damage the ongoing negotiations between Serbia and Kosovo in Brussels.
As in many other cases before, it is expected that Bosniak officials will urge the international community and its representative in BiH Valentin Inzko to respond and impose sanctions on Dodik. The reactions from various embassies are also expected.
Either way, it appears this will not be enough to stop Dodik from expressing such views. /ibna