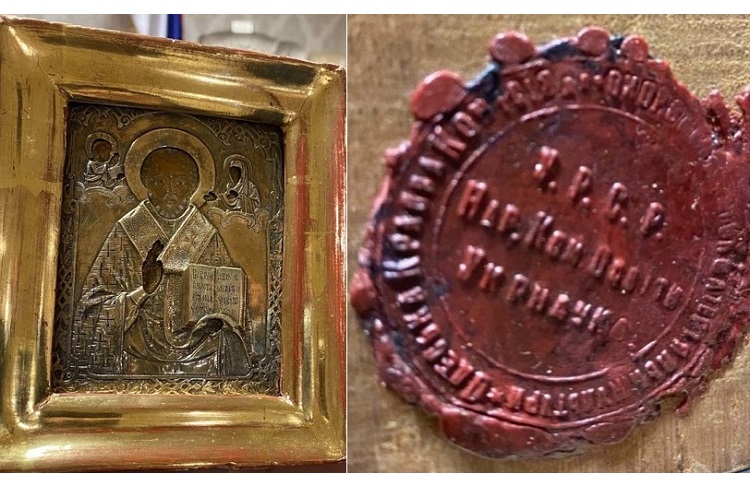 After BiH Presidency chairman Milorad Dodik presented in East Sarajevo on Monday night the Russian Minister of Foreign Affairs Sergey Lavrov with the 300-year-old gilded icon found near Lugansk, diplomatic channels between Ukraine and BiH have been blowing up.
The Ukrainian Embassy in Bosnia and Herzegovina has officially called on the BiH Ministry of Foreign Affairs to provide explanations as to how the icon ended up in the hands of Milorad Dodik and how he could have gifted it to the Russian minister in the first place. What is especially difficult in this case is the fact that the icon was found near Lugansk, which Ukraine considers occupied territory by Russia, with the latter giving this case political and not only cultural connotation.
Minister of Foreign Affairs of BiH Bisera Turković confirmed that a Ukrainian diplomatic note had arrived at the Ministry.
"Because of this action of Milorad Dodik, our country is under a very serious accusation from the Ukrainian embassy," said Turković.
She added that a response should be provided to the Ukrainian letter as soon as possible.
"I am aware by my associates that a letter has arrived in which the Embassy of Ukraine claims that the icon given to Minister Lavrov is a treasure of Ukraine. They ask how it came to Bosnia and Herzegovina, and refer to international law. They are asking for information on how it came to Bosnia, how it ended up in the hands of our representatives, and how it was passed on. They are vigorously demanding clarifications," says Turković.
Among other things, she states that it is a normal sequence of things to investigate how this transaction came about.
"We have competent institutions, that is, the Prosecutor's Office of BiH, which on the basis of this letter has a serious basis to inspect how the possession of the alienated Ukrainian property came about," said Turković.
Opposition representatives in the RS National Assembly are also calling on Dodik to explain how the icon, gilded and with a stamp proving its origin, fell into his hands, and in particular why it was given to a Russian diplomat. /ibna