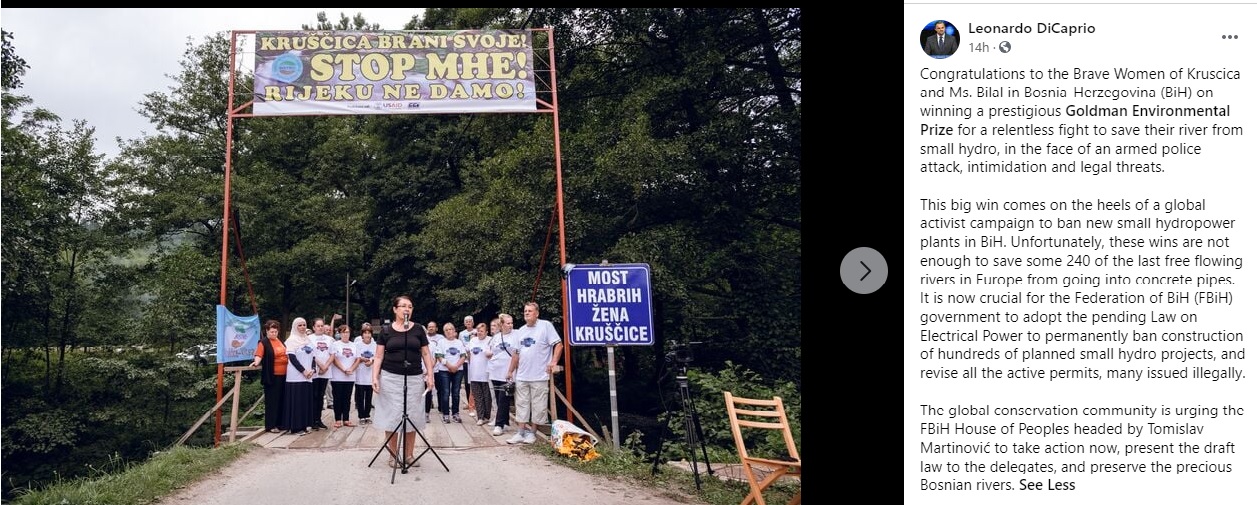 Oscar-winning actor Leonardo DiCaprio urged Federation BiH authorities on Thursday to adopt the Law on Electricity, which would permanently ban the construction of hydro plants.
The letter was sent to Federation BiH Government and Parliament as well as to environmental activist Maida Bilal who won the Goldman Environment Award for preventing the construction of small hydroelectric dams.
"I congratulate the brave women of Kruščica and Ms Bilal from Bosnia and Herzegovina (BiH) on winning the prestigious Goldman Environmental Award for tirelessly fighting to save their river from small hydropower plants, facing armed police attack, intimidation and legal threats. This big victory comes as a result of a global activist campaign to ban new small hydropower plants in BiH. Unfortunately, these victories are not enough to save some of the last 240 rivers that flow freely in Europe from entering the concrete pipes," DiCaprio said.
Maida Bilal from BiH is the winner of the Goldman Environmental Protection Award for her engagement in working with a group of women from Kruščica who prevented the issuance of permits for two dams on this river in December 2018.
DiCaprio stated that it is now crucial for the FBiH Parliament to adopt the pending Law on Electricity, permanently ban hundreds of planned small hydropower projects, and revise all active permits, many of which were allegedly issued illegally.
"The Global Environmental Protection Community calls on the FBiH House of Peoples, led by Tomislav Martinović, to take action immediately, present the bill to delegates and preserve the precious Bosnian rivers," said DiCaprio, who has been active as an environmental activist for years.
He made a similar appeal in September last year when he supported the global appeal to the FBiH Government to ban small HPPs.