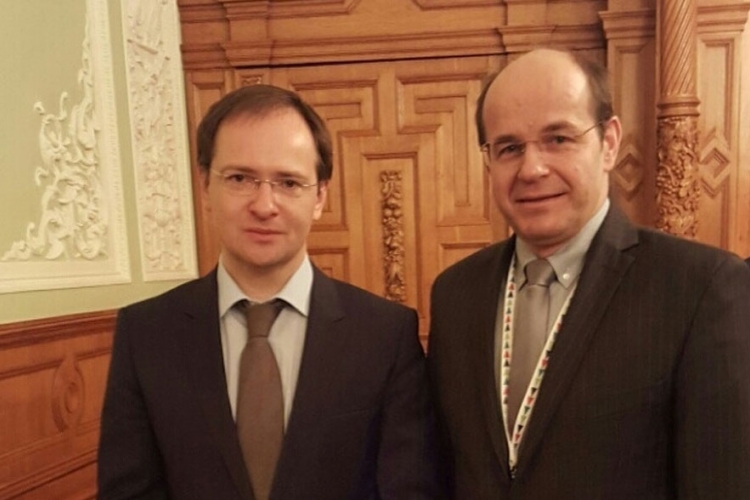 Sarajevo, December 16, 2015/Independent Balkan News Agency
By Mladen Dragojlovic
BiH Minister of Civil affairs, Adil Osmanovic, who participates on the 4th St. Petersburg International Forum, took the opportunity to meet his Russian Culture Minister, Vladimir Medinsky, and ask him to do everything possible that Russia return the important historical artefact from BiH, which is in the St . Petersburg Academy of Sciences.
It is the, so called, Charter of Kulin Ban, one of the most important medieval rulers in Bosnia, and represents his license to Prince Krvaše and all the people of Dubrovnik full freedom of movement and trading across his country. The charter was written in two languages – Latin, which was the official language in this part of Europe at the time is one of them. According to the seal and the text, it was written on August 29, 1189. The second language is more important for BiH culture. It is Bosnian Cyrillic or Bosančica, and the Charter is the oldest official document written in it.
"The Charter of Kulin Ban is of utmost importance for the history of BiH. It is the first known diplomatic document issued by a Bosnian ruler to a ruler of another country, and was written in the local language. As such, this document testifies to the deep roots of Bosnian cultural, historical and linguistic heritage of Medieval Bosnia", Osmanović said during his meeting with his Russian colleague.
He said that BiH, unfortunately, has been deprived of possession of the document in its own cultural and historical archives and expressed hope that the arguments presented would encounter understanding from the Russian side and allow the return of the original document of the Charter of Kulin Ban to BiH. Osmanović said that the BiH Ministry of Civil Affairs is ready to give its full cooperation in order to find an optimal compromise for the solution to this matter.
He visited the library of the Russian Academy of Sciences, which holds the Charter of Kulin Ban, where he had the opportunity to see this historic document and talk to experts that take care of it.
For several centuries, the Charter was in the Dubrovnik archive, and the first who presented it in public was former Russian consul in this city, Jeremija Gagic, who claimed that he rescued this document in 1817. Several years after this, Djordje Nikolajevic, the man who had the job to copy several medieval Cyrillic manuscripts, stole the Charter and some other original documents from the Archive. Gagic obtained the Charter of Kulin Ban and sold it to ST. Petersburg Academy of Sciences, where it is today. In the Dubrovnik archive there are two copies of this document but the Russian artifact is believed to be the original.