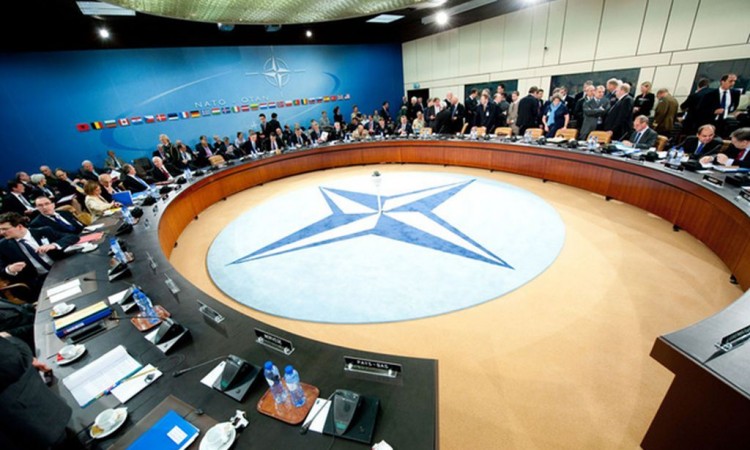 A high-level delegation of Bosnia and Herzegovina led by Deputy Chair of the Cabinet and Foreign Minister Bisera Turković and Defence Minister Sifet Podžić paid a working visit to NATO headquarters in Brussels today, where they attended top-level meetings.
The talks focused on intensifying cooperation with NATO and implementing the BiH Reform Program.
"The visit to NATO Headquarters began with a working breakfast in the format of the North Atlantic Council and the BiH delegation. Permanent representatives or heads of missions of the NATO member states, who represent NATO's highest political body, attended the event", according to a statement of the BiH Ministry of Defence.
Hungary's Permanent Representative to NATO, Zoltan Nagy, hosted the event.
The activities of the BiH MoD delegation continued at the BiH Mission to NATO, where Minister Podžić and his associates had a working meeting with members of the Military Section of the BiH Delegation, during which preparations were made for an afternoon meeting of the NATO Permanent Representatives or Heads of Mission, and briefing of Brigadier Jasmin Čajić on the most important activities of the Military Section of the BiH Mission to NATO.
The working visit of the BiH delegation continued with the participation of the NATO Permanent Representatives or Heads of Mission meeting.
During the meeting, Foreign Minister Turković focused on the political aspects of the BiH Reform Program, while BiH Defence Minister Podžić highlighted the most important defence issues in the context of the implementation of the Defence Review, as well as the AF BiH Modernization Plan as its most important segment.
In the exposés, representatives of the Allied states emphasized that the Allies recognized the importance of the reform processes in BiH, as well as the efforts made by the institutions of BiH, especially regarding the implementation of the BiH Reform Program, and in that context, they expressed support and offered assistance.
The working visit ended late in the afternoon with a meeting with NATO Secretary-General Jens Stoltenberg, who represents the highest level of NATO officials who met with the BiH delegation.
"Having in mind and showing appreciation for the interest shown by Allied representatives during the meetings, as well as the fact that NATO has canceled a number of events in recent days for preventative measures due to the situation caused by the spread of coronavirus, however choosing to hold these NATO-BiH meetings, all this in a specific way, emphasizes the importance of these meetings, as well as NATO's commitment to supporting BiH and intensifying NATO-BiH cooperation in all aspects", BiH Ministry of Defense's statement reads.
In addition to Defense Minister Podžić, the delegation included, on behalf of the MoD and AF BiH, Zoran Šajinović, Assistant Defense Minister for International Cooperation, Brigadier Jasmin Čajić, Head of the Military Section of the BiH Mission to NATO, Kemal Korjenić, Head of the BiH Defense Minister's Office and Deputy Head of the Military Section of the BiH Mission to NATO, Brigadier Velibor Purković./ibna