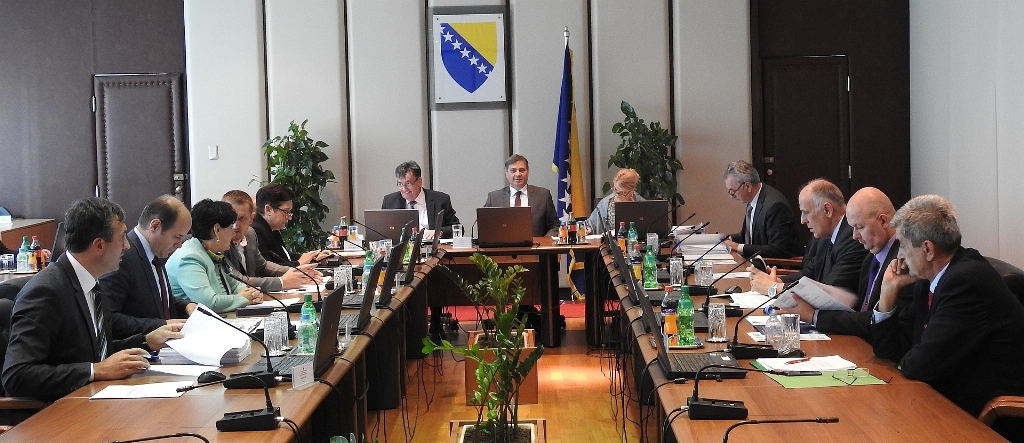 Despite the previous statements, that BiH will respond to Kosovo's decision to increase tariffs for imports of BiH goods to 100%, to the surprise of the public, the BiH Council of Ministers decided on Thursday's session that they will refrain from taking any countermeasures at this point.
As it was announced after the session in Sarajevo, the BiH Council of Ministers reviewed the information of the Ministry of Foreign Trade and Economic Relations of BiH about this case and concluded that it will demand from Kosovo to immediately cancel these measures.
After the session of the BiH Council of Ministers, BiH Minister of Foreign Trade and Economic Relations, Mirko Šarović, told reporters that after the discussion, two conclusions were adopted.
"One conclusion stressed that the introduction of taxes is an one-sided decision of Kosovo that is contrary to the CEFTA agreement and violates it. It broke the free trade zone, and Council of Ministers demands that Kosovo cancels these discriminatory measures and immediately withdraw them", Šarović said.
He added that the BiH Council of Ministers is also urging the European Commission and its officials to join the issue "which threatens to disrupt the free trade zone and urge the Kosovo side to urgently lift these measures".
"BiH did not contribute to the introduction of these measures. We believe that the reasoning given by the Kosovo side is unfounded in the provisions of the CEFTA agreement. In addition, BiH was not consulted prior to the adoption of these measures, nor was in any way informed, which in some way is a unfair attitude of the Kosovo side towards one of the CEFTA member states", the BiH minister emphasised.
He confirmed that BiH is not currently considering any countermeasures. As he said, at this time "we do not have to go with this example and we will give an opportunity both to the Kosovo side, but also to the European Commission to resolve this case in a different way".
"Certainly the CEFTA agreement is seriously shaken and the issue of the CEFTA status in general is likely to be called into question, if these measures are not abolished", he said.
Šarović also confirmed that at a joint meeting with his Serbian colleague Rasim Ljajić, it was estimated that it would be meaningless to travel to session of CEFTA countries in Pristina when their objections were not respected.
In earlier statements, several BiH ministers said that the country should respond to the Kosovo decision on custom taxes. Even the BiH Council of Ministers Chairman, Denis Zvizdić, stated that BiH "would respond to Pristina's decision to impose 100 percent customs duties for the products originating from Bosnia". Šarović and BiH Foreign Minister, Igor Crnadak, estimated that the decision is "an act of hostility and a blow to free trade in the region". But, obviously, on the session on Thursday, a different cpurse of action was decided, contrary to the reports of the BiH Foreign Trade Chamber that more than 10 000 jobs are threatened by Pristina's decision./IBNA