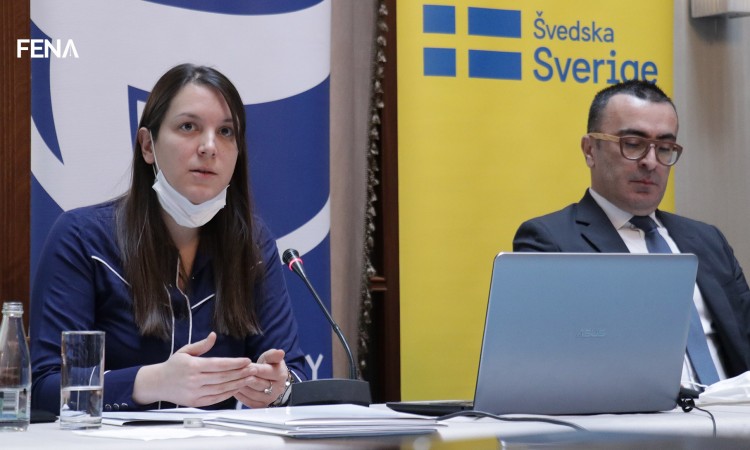 Transparency International's 2020 Corruption Perception Index (CPI) ranks Bosnia and Herzegovina (BiH) among the countries in which corruption is worsening exponentially. The Index indicates that BiH has tumbled 11 spots and ranks 111th out of 180 countries with a score of 35 (0-100 scale), which also marks a record-low since 2012, when BiH ranked 72nd with a score of 42.
This was pointed out today at a press conference held by Transparency International in BiH (TIBiH), at which the heads of the association presented the 2020 findings and indicators of the global report on the Corruption Perceptions Index.
As TIBiH Executive Director Ivana Korajlić said, unfortunately, BiH has been declining on the CPI scale for several years, this year holding the worst position among the countries of the Western Balkan region next to North Macedonia.
She added that the phenomenon of corruption is accompanied by human rights violations, which is confirmed by seven sources/relevant research measuring the perception of corruption in the public sector by experts and the business community, focusing on trends in the context of the countries' ability to fight corruption.
Slovenia is the highest ranked country of the region with a score of 60, followed by Croatia with a score of 47, Montenegro with a score of 45, Serbia with a score of 38 and Kosovo with a score of 36. Based on the Corruption Perception Index Denmark, New Zealand, Finland clinch the top spots, alongside other western countries with a high level of democracy. Countries affected by war, lack of rule of law and dictatorship are found at the bottom of the list, and this year these positions were held by Syria, Somalia and South Sudan.
When it comes to the CPI Report's general recommendations, Korajlić notes that they are mostly related to strengthening institutional oversight, transparency of public procurement, which is especially problematic this year due to the COVID-19 pandemic, alongside the defence of democratic mechanisms and data publishing in the field of public spending and the allocation of public resources.
TIBiH Board of Directors Chairman Srdjan Blagovčanin warned that BiH has been heading in the wrong direction and the authorities have yet to make a step forward in any of the 14 priorities on the European path, especially those related to the rule of law and the fight against corruption.
At the same time, he stressed that if the country continues the trend of rapid decline, it risks escalating the crisis to utter institutional paralysis, which is further multiplied in combination with the economic crisis caused by the COVID-19 pandemic and the darkest face of corruption.
Blagovčanin recalls that there was no institutional response to the scandals presented in public, with the judiciary, which is supposed to tackle corruption becoming on the contrary a 'burning issue'. /ibna